Vodacom Durban July Fever gripped South Africa on Friday with visitors from all corners of South Africa and the world pouring into the East Coast holiday city of Durban.
South Africa's leading Bookmakers Hollywood hosted a visitor's hospitality 'meet and greet'at the King Shaka International Airport, where top racing publications Winning Form and Sporting Post were handed out free of charge.
A well-known racing personality who flew in from Gauteng for the July said Durban was coated in purple and lauded the Hollywood reception party for the generous gesture.
"This kind of marketing activation  can only cast the sport in a positive light. When does racing every show its face to Joe Public? Well done Hollywood and let's face it – the Sporting Post and Winning Form are the only two publications I use. I salute you guys,"said the excited visitor to a round of applause.
Many racing personalities and celebrities from other sectors posed for photographs with the beautiful Hollywood Hostesses throughout the day.
All the betting information is available here
The Vodacom Durban July will be run at 16h20 at Greyville on Saturday.

‹ Previous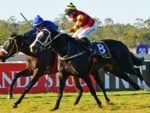 A Parliamentary Performance!