The EFF led protest by personnel, including tote staff, at Turffontein on Saturday and the electrical fault that delayed the start of the Vodacom Durban July by fifteen minutes were testing moments for the big race organisers on a day that already had its nervous moments in the build-up weeks.
The objection by the Public Servants Association last month against any Markus Jooste horses participating on July day was nullified by assurances from Vodacom and the National Horseracing Authority that the former Steinhoff boss was no longer an owner.
Then just three days prior to the race, the Summerveld and Ashburton Grooms barricaded the training centre entrances, demanding better wages. The discontent is far from over and negotiations are set to resume this week.
The protest at Turffontein delayed the racemeeting and caused a knock-on for Saftote, with Vodacom Durban July related races – the big race was on the Turffontein card – scheduled later than expected. In the end, things levelled out.
The July itself had reached a climax as the runners went to post – but was delayed by 15 minutes and the start had to be effected manually in the end.
According to reports, the gates were tested before the race and opened perfectly.
Chief Stipe Shaun Parker said that they were then tested again and the outside bank wouldn't open.
"They were then reset and retested and worked perfectly but when tested again there were further problems. With a race of this magnitude we couldn't take a chance and the starter eventually resorted to a manual start."
This entailed the starter and his assistant each controlling a bank of stalls and hitting the starting levers in unison.
"The guys did brilliantly," said stipendiary steward Ernie Rodriquez. "Both banks opened together. They deserve a lot of praise."
The pace that the race was run at was not one befitting a top level Gr1 feature.
"I really believe the aspect of jockeys coming across and then dragging up the pace needs to be looked at very seriously,"said Muzi Yeni, rider of topweght Coral Fever, after the race.
"It is not only extremely dangerous but is bad for racing – bad for form – and ultimately bad for the people that spend money so that we can earn a living," he added
There is no question, that despite assurances from top jockeys in the build-up, the pace directly and indirectly affected the outcome, with a mid-race move by Hong Kong-bound Grant van Niekerk on favourite African Night Sky still being pondered by experts as a puzzling tactical choice. He ended up finishing fifth.
But, hey – we will do it all again next year!
‹ Previous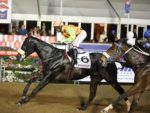 Muzi Rocks Them