TAB turnover for Vodacom Durban July day fell short of the R140-million target, but Phumelela Betting Executive Vee Moodley says tote turnover for South Africa's biggest betting bonanza of the year was far from disappointing in light of various elements that impacted negatively on betting through the day.
TAB turnover of just over R130 million on Saturday was R11 million or some eight percent less than a year ago.
"One has to remember that last year's phenomenal total came off the back of two years of strong growth," said Moodley.
"This year prevailing economic conditions obviously had a major impact, as did that there was no Kenilworth race meeting. So we had only two South African meetings versus three in 2017 and to make matters worse turnover on the Turffontein fixture was dented by protest action at the racecourse and a flood of scratchings in a couple of races," he added.
Moodley also believes that World Cup 2018 in general and two World Cup quarter-finals on the same day were a significant distraction.
"Soccer was top of the mind for many in the week before the race and not the July as normal. And unlike last year, tote turnovers dipped sharply after the July when the England-Sweden match was already underway and turnovers after 8pm, when the other quarter-final kicked off, also dropped more sharply than in 2017.
"Results were also not in our favour. Only two tote favourites won and the defeats of runners like Soqrat and Snowdance were bad for churn. And while it's hard to quantify, not screening the July live on a free-to-air television platform for the first time in ages probably diminished the interest of a significant number of armchair players," Moodley said.
He added that the pools on the Greyville Pick 6 and the Durban July Quartet were most encouraging. "We accomplished a whopping R16-million Quartet pool on the July and the Pick 6 hit the targeted R13 million plus delivered a payout of over R276,000.  Both those pools were very encouraging," he concluded
‹ Previous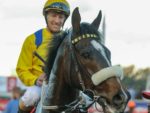 July – Marcus' 101st Gr1 Winner!