It is the dream of every owner to win the Vodacom Durban July and on Saturday Durban businessman Nick Jonsson described the moment his two Justin Snaith-trained geldings Do It Again and Made To Conquer powered clear in the straight as 'almost surreal'.
Prolific owner Bernard Kantor, whose colours were carried to victory by Do It Again, was still waxing lyrical hours after the running and said, "What an experience!" Jack Mitchell is the third part-owner. It was his second July win, having done it with Legislate in 2014.

Nick Jonsson became the first owner since Luke Bailes in 1990 to run one-two in the big race. Bailes and Jonsson are close friends, just one irony in a day filled with drama.
Bailes feat was achieved with the Terrance Millard-trained pair Illustrador and Olympic Duel in 1990, which was also the second time Millard had done the July trifecta.
Jonsson believed he had the two best jockeys in the race, Anton Marcus and Jeff Lloyd, and felt the key to victory was that they had ridden their races exactly as discussed.
Kantor was watching in a box at the 200m mark and at this point nudged the top South African Singapore-based trainer, Pat Shaw, standing next to him, and said, "Let's go." He was so confident of Do It Again's victory he knew he could make his way to the winner's enclosure.
Even as Jonsson celebrated his momentous achievement with close friends in a second floor box his eyes were filled with sadness.
He had thought of his late father Ben 'all the time' during the emotion charged day. Benji, much loved and appreciated by the entire racing community for his friendly demeanour and the passion he had poured into his administrative roles in the sport, passed away in February this year having never realised his dream in 50 years of ownership of having a runner in the July.
A KZN owner had not won the July since Raymond Deacon and Glen Mitchell did it in 2009 as part-owners of Big City Life and one has to go back to 1994's winner Space Walk to find the previous KZN-based owners.
Jonsson drew the short straw when deciding whether his or Kantor's colours would be carried by Do It Again, so it will the familiar yellow with royal blue epaulettes which will become the latest new set of silks to make it on to the July victory wall in Greyville's Classic room.
-www.goldcircle.co.za
‹ Previous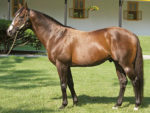 War Front Colt For Stud In Cape