The total aggregate for all Bloodstock South Africa yearling sales in 2018 grew by an impressive 20%.

The standout sale as far as the aggregate increase is concerned, would have to be the Emperors Palace National Yearling Sales where a 25% increase was achieved.
The KZN Yearling Sale and the Emperors Palace National Two Year Old Sale also posted significant increases in their aggregates achieved, both posting double digit growth.
As a result, Bloodstock South Africa grew their percentage of the market share by 38%.
The average price achieved over all yearling sales run by BSA improved by a healthy 20%.
This year also marked the introduction of a new initiative at the Emperors Palace National Yearling Sale of a two-tiered sale. Horses sold on session 1 had an increased minimum bid of R100 000 whilst session 2 remained at R50 000. It is worth noting that only 17% of the horses over the entire sale failed to reach the R100 000 minimum bid for session 1 (8% in session 1 and 9% in session 2). The results speak for themselves: average price achieved on session 1 was R582 000 whilst session 2 achieved R188 000. It is interesting to note that at the Emperors Palace National Yearling Sale the number of horses sold between the R500 000 to R1 000 000 and R300 000 to R500 000 grew by 42% and 34% respectively.
When reviewing statistics the two figures that are often overlooked are the sales median and clearance rate.
Bloodstock South Africa has proudly noted that the median price achieved increased at every sale held in 2018 and the clearance rate was a very pleasing 82%.
The most positive effect on the South African Thoroughbred Industry in 2018 has been the very active international market for both yearlings and proven race horses.
International participation at the 2018 Emperors Palace National Yearling Sale was significant.  From purchasing 29 horses and spending what equated to 16% of the Bloodstock South Africa's  turnover in 2017, international buying increased to 54 horses this year, and their participation saw the overseas spend equate to no less than 34% of BSA's turnover at the 2018 sale.
‹ Previous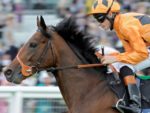 Canford Cliffs Son Crosses The Channel