The Northern Cape's leading Apprentice of last season Denis Schwarz will be jetting off to Kazan in Russia to contest the HH Sheikh Fatima bint Mubarak Apprentice World Championship (IFAHR) to be held at the Kazan Racecourse on Thursday 30 August.
The 19 year old former Marais Viljoen High School pupil ended last season with 50 winners and has been in good form, with highlights being a recent treble at Turffontein and a double at Flamingo Park.
Denis joined the SA Jockey Academy intake of 2015 alongside the likes of Ashton Arries, Calvin Habib, Louis Burke, Sandile Mbhele, Dylan Lerena, Khanya Sakayi, Liam Tarentaal and Daniel Kotzen.
His first ride was on 20 March 2016, when he piloted the Craig Eudey trained Last Summer and Gavin van Zyl's Ginger Biscuit at Scottsville, grabbing a 5th place with the latter.
His first winner was Chronological for Gareth van Zyl on 11 May 2016.
At Greyville on 6 December 2017 Denis became only the third apprentice to ride the Jackpot after Muis Roberts and Athandiwe Mgudlwa.
He says he is looking forward to his Russian adventure and can only benefit from the experience.
It's a great pity that, despite the minor centre status of the region, the winners of the Northern Cape Awards for 2017/18 do not appear to have been published anywhere a week after the event – beyond the top few awards notification carried by the Sporting Post last weekend. Let's hope the Equus Awards are treated better.
‹ Previous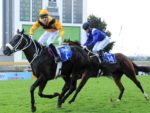 Arabian Beat Has The Class