One of the highest-rated race horses at stud in South Africa, and the first and only multiple Gr1 winning son of Dubawi to stand here, arrives to take up duties at Maine Chance today.
Bred and raced by one of the most successful owner-breeders in the world, the Niarchos family, Erupt won two Gr1 races in Europe and North America at ages three and four, with a time-form rating of 121.
He won his races on good ground, showing excellent speed – making him very attractive for the South African market. He was tough, as he travelled the world and raced in France, the UK, the US, Canada and Japan.
Erupt's main attraction is his pedigree.
He stems from the world's leading and most versatile stallion Dubawi, out of a top class Group winning, and multiple Gr1 performing, race mare Mare Nostrum.
Mare Nostrum is a daughter of the deceased, former world-leading broodmare sire Caerleon, a group winner at age two over 1200m, showing plenty of speed. He was also an Irish Derby winner at age three.
Caerleon was Champion Sire and Champion Broodmare Sire by Nijinsky, the sire line of our multiple Champion Sire, Silvano.
Caerleon's second broodmare sire, Spectacular Bid, won seven races at age two, including two Group 1 races, and ten races at age three, including six Group 1 races.
Erupt hails from one of the world's great Champion Sire producing families.
His  mother and grandmother fill more than a page of top horses!
Pedigree experts suggest that a prospective top stallion tick four boxes:
Group 1 winning stallions that showed toughness and brilliance
The dam-line must boast solid black-type horses and good stats on winners to runners
Group 1 winners under the first four generations
A family of proven sires
Erupt comes from the family of Flying Spur (Australia), Encosta De Lago(Australia), Holy Roman Emperor (Europe) and Lode (Argentina).
This family is from the great foundation mare Fanfreluche.
Asked about the mating of Dubawi and Mare Nostrum, Alan Cooper, Manager of the Niarchos horse empire remembers: "We sent Mare Nostrum to Dubawi to combine Mr. Prospector blood with Nijinsky. Erupt's older sister, Marie de Medici, was by the Mr. Prospector sire line stallion, Medicean. So we went strong on this by choosing the best in Dubawi."
Dubawi's sire is the great Dubai Millenium, the greatest race horse that the empire of Sheikh Mohammed ever owned, and thus the horse closest to the heart of the Ruler of Dubai.
It started with Dubai Millennium's demolishing win of the Dubai World Cup and his premature death, leaving only a single Gr1 winner – namely Dubawi. When Dubawi retired to stud, he was not fancied much and started off with a stud fee of around £15,000.
In his career as a stallion, Dubawi produced 50 group winners at the fastest rate a stallion has ever done. He is now sire of 35 Gr1 winners, more than 80 Group winners, more than 76% winners to runners, 15% stakes winners to runners, 10% group winners to runners and has an AEI of 5,04. He is currently the Leading Turf Sire in Europe in 2018 by Worldwide earnings.
Asked about Erupt's future brothers and sisters, Alan Cooper comments: "Today, Mare Nostrum is living at Coolmore, Ireland, the most professional breeding operation in the world. She has a two-year old colt in training in Ireland, by Camelot, who we expect to become a top young stallion in Europe. We kept him because we believe in him. He is in training with Francis Graffure.  Mare Nostrum is in foal to Frankel, the stallion that probably follows Galileo and Dubawi in world class."
Alan Cooper describes Erupt's temperament as such: " I remember watching him in the Paddock at our stud Fresnay Le Bouffard on a very hot day, he was super cool and relaxed, not bothered by the heat and the flies. It was always easy to handle him. He has an excellent temperament."

Francis Graffard, Erupt's trainer, added: "As a son of Dubawi he has the attitude that make a trainer's life easier.  He was absolutely at his best on fast ground, delivering a formidable acceleration. He and his offspring should suit South African breeding and racing."
About Erupt's physics, Alan Cooper said:  "He has a very nice head – the best combination of Dubawi and Caerleon, he toes out a little like Dubawi, he has good strength and great quarters. I recommend sending him a medium-sized mare with a bit of length, best would be a miler. He has been a top 2000m horse, from a family with plenty of top milers in the pedigree."
The pedigree guru Bill Oppenheim has been helping the Niarchos family with matings for about 20 years.
About Erupt's racing, he commented: "Erupt had a very good turn of foot. He finished his Gr1 races by increasing margins and impressive sectional timings. It is important to realise that 2000 to 2400m is the greatest test of speed, soundness and stamina a horse can have – often finishing at faster speeds over the last few furlongs than a sprinter.I was hugely impressed when he was a close 5th in the Arc as a 3-year-old, since the four in front of him were Golden Horn, Flintshire, New Bay, and Treve. Sixth was Free Eagle. That was world class!"
Alan Cooper added: "I love his style of racing. He showed true class to come from off the pace and win. Look at his sectional timing in his Group 1 wins in Paris."
Trainer Francis Graffard is quoted: "Erupt was, for me, the horse of a lifetime. His will to win and courage, coupled with a devastating turn of foot, are qualities that all breeders should be looking to inject into their stock."
Enquiries – Tim Bootsma – click below:
‹ Previous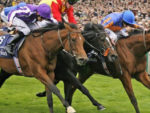 Fencing Master – Great Value!