A total of 58 horses have been entered for the R750,000 World Sports Betting Grand Heritage (Non-Black Type) – the event with the biggest field in South African racing – to be run over 1475m at the Vaal on Saturday 29 September.
Tabnews reports that there will be a maximum field size of 28 starters.
Former national champion trainer Sean Tarry has no fewer than eight nominations, including Africa Rising, Count Tassilo and London Secret.
Mike de Kock has entered just two, but they are quality individuals: Triple Crown performer Noble Secret and highly rated Australian import Dhabyaan.
Winner of the inaugural Grand Heritage in 2016, Irish Pride, from the Johan Janse van Vuuren stable, is among the hopefuls.
Others to catch the eye are veteran campaigner Killua Castle, from Geoff Woodruff's yard, and a raider from KwaZulu-Natal in the shape of Shane Humby-trained Socrates.
The Grand Heritage is open to all horses and the final field is by way of invitation from racing operator Phumelela.
To be considered for inclusion in the final field, every horse nominated must have had at least a minimum of one run from the time of first entry up to and including the time of the final supplementary entry.
Base weights are determined by the handicapper prior to consideration of additional weights for Graded and Listed races. Additional penalties for highest Graded/Listed win in the last 18 months are: Grade 1 3kg, Grade 2 2kg, Grade 3 1kg, Listed 0.5kg.
Thereafter, where applicable, amended weights for runs between first and final supplementary entries will be published on a weekly basis until final weights are published. There is no sex allowance and no apprentice allowance.
Stakes are payable up to 15th position, provided 28 runners + 2 reserve runners are declared, with the first prize being R406,250.
Entries for the R750,000 WSB Grand Heritage (Non-Black Type) (Open) over 1475m at the Vaal on Saturday 29 September:
R750 000 1475m 
THE GRAND HERITAGE (Non-Black Type)
18
Africa Rising
Sean Tarry
103
37
African Ruler
Paul Peter
91
15
Bockscar
Sean Tarry
75
13
Bold Coast
Stanley Ferreira
78
20
Bronx Bomber
Alec Laird
71
16
Certifiable
St John Gray
70
25
Chapel Jive
St John Gray
72
43
Chepardo
Alec Laird
88
33
Classify
Dorrie Sham
81
53
Clever Guy
Stephen Moffatt
95
52
Combat Muster
St John Gray
74
41
Count Tassilo
Sean Tarry
83
57
Daffiq
Gokhan Terzi
88
47
Dan The Lad
Paul Matchett
76
11
Danza
Alec Laird
78
56
Dhabyaan (AUS)
Mike de Kock
70
44
Divine Connection
Alec Laird
73
10
Divine Odyssey
J A Janse van Vuuren
91
31
Finchatton
Gokhan Terzi
99
35
Flying Winger
Alec Laird
81
32
Full Of Attitude
Joe Soma
78
2
Galactic Warrior
Lucky Houdalakis
75
46
Huyssteen (AUS)
Lucky Houdalakis
83
3
Image Award
Sean Tarry
85
23
Irish Pride
J A Janse van Vuuren
94
8
Jubilee Line
Fabian Habib
85
7
Just Ask Me
Corrie Lensley
93
42
Killua Castle (AUS)
Geoff Woodruff
85
24
Kings Archer
Stuart Pettigrew
99
12
Lake Kinneret
St John Gray
83
21
London Secret
Sean Tarry
84
50
Mardi Gras
J A Janse van Vuuren
90
26
Mount Keith (ZIM)
Ashley Fortune
76
19
Noble Secret
Mike de Kock
106
49
Pilou
Sean Tarry
89
29
Purple Diamond
Sean Tarry
90
6
Rebuked
Stephen Moffatt
81
34
Rings And Things
Ashley Fortune
89
4
Rouge Allure
Stephen Moffatt
96
27
Sail For Joy
Fabian Habib
87
28
Seventh Of June (AUS)
Paul Peter
73
17
Silver Coin
Gokhan Terzi
82
38
Silver Peg
Gary Alexander
78
1
Socrates
Shane Humby
83
58
Soldier On
Stuart Pettigrew
88
22
Sovereign Reign
David Nieuwenhuizen
66
14
Strawberry Pavlova
St John Gray
86
45
Street Flyer (AUS)
Paul Matchett
71
55
Talktothestars
Coenie de Beer
103
9
Tandava (ZIM)
Gokhan Terzi
101
54
Top Shot
Gary Alexander
92
40
Torio Lake
J A Janse van Vuuren
68
5
Tsitsikamma Dance
Ashley Fortune
84
30
Unagi
Gary Alexander
104
48
Wild Curve
Fabian Habib
86
51
William Nicol
St John Gray
76
39
Yamoto
Sean Tarry
85
36
Zouaves
Geoff Woodruff
98
(58)
‹ Previous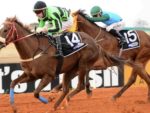 Naidoo's Flamingo Double