Grant van Niekerk is the kind of jockey that makes news wherever he goes. Racing folk are still debating his ride on Durban July favourite African Night Sky!

The Capetonian is primed and ready for his first Hong Kong meeting on Sunday 2 September.
He chatted to Tom Biddington of the South China Morning Post on Wednesday.
The author writes that outside his native South Africa, only the most hard-core racing fans would know of Grant van Niekerk, but that is about to change.
The 27-year-old is the latest addition to the Hong Kong riding ranks and he wants to make his presence felt in one of the world's highest-profile jurisdictions.
"The more winners I ride, the more they will get to know me," said Van Niekerk, who has already secured seven rides for the opening meeting on Sunday, September 2.
"I want people to know I'm always doing my best and I'm a good person.
"If I get the opportunities, I think I can deliver. My dream is to be one of the best."
‹ Previous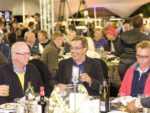 Jooste Faces Parliament