Unlike the fragmented efforts on our own doorstep, it seems the Americans are at least talking to each other about the challenges facing the industry

The www.thoroughbredracing.com website reports that Sunday was an exciting day for the future of racing in America.
A plan for a series of groundbreaking initiatives was unveiled at the 66th annual Jockey Club Round Table Conference in Saratoga Springs, and they could provide a major shot in the arm for the industry.
The initial discussions on Sunday centred around feedback on the 2011 McKinsey presentation, given at a time the industry in the States was facing a challenging set of trends.
Betting turnover had declined 37 percent over the previous decade, race days and starts per horse were down 14 percent and on-course attendance had dropped 30 percent.
The new focus is on items like social media engagement with the 'fan base', takeout on betting, complexity of betting – and even using the legalisation of sports betting to advantage.

An interesting item for our Cape racing fathers could be the suggestion that a preoccupation with win strike-rate stats was a reason that trainers were running their horses less and not filling fields. That's close to home!
Thinking about it, when last has the South African horseracing industry formally sat down as a collective, buried agendas and actually tried to find some answers to the many pressing questions and hurdles facing the sport? At the current time it feels like it's each man for himself and on his own mission.
Click here to read the report on the Jockey Club Conference-  kind courtesy of www.thoroughbredracing.com
‹ Previous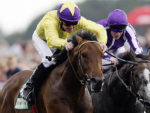 Seeing Stars!