After the alarming spate of injuries last season, three riders suffered falls over the weekend.
All three accidents did not occur during a race.
At Turffontein on Saturday, apprentice Kabelo Matsunyane and jockey Wesley Marwing were injured at the start of the third race. Their mounts, Cloudless Sky and Gimmiethegimmie, were withdrawn.
Jockeys Association Spokesman Tex Lerena informed the Sporting Post on enquiry that both riders were taken to hospital for precautionary X-rays.
"Kabelo Matsunyane was found to be suffering from concussion and will be out for approximately two weeks. Wesley Marwing fell awkwardly on his coccyx and there is muscle bruising and possible nerve damage. There is no indication as to how long he will be out of action at this stage, " said Tex.
Apprentice Luke Ferraris was injured when his mount Changing Seasons took off with him and broke through a running rail prior to the running of the fourth race at Scottsville on Sunday, His fancied mount was withdrawn.
"Luke was taken to hospital for precautionary x-rays on his hip. We are hoping that it will be nothing serious. He has been doing so well," added Tex.
‹ Previous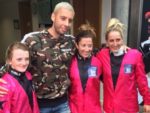 Girls Rule In Shergar Cup