The Cape Town City council has dismissed appeals to halt the controversial development of a hotel, high-rise residential units and retail developments on the Kenilworth Racecourse property.
The www.iol.co.za website reports that the proposed 6.8ha development has been slammed by activists, who fear the impact on the nearby conservation area, its endangered species and irreplaceable biodiversity.
They charged that the city council approved the rezoning application for the development without an environmental impact assessment (EIA) being completed, and a poor public consultation process to keep the development under wraps.
The Sporting Post reported in May 2017
The city council, however, found all environmental authorisation and protocols were abided by.
‹ Previous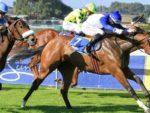 Cape's Pair Of Aces