Jockey S'manga Khumalo was fined R2500 in terms of rule Rule 26.1 – for permitting an unlicensed person to arrange rides on his behalf.
The fine was initiated on Super Saturday.
This doesn't really make much sense based on the information provided by the National Horseracing Authority.
And why did the NRB accept the unauthorised agent's instructions in the first place then?
Read more Short Heads – click on the image below

‹ Previous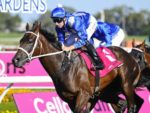 O'Brien Bids To Ruffle Star's Feathers