It's that time of the year again when the KZN Breeders Premium Scheme kicks in for breeders.
The only one of its kind in South Africa, Breeders Premium Schemes are not uncommon in the world of Thoroughbred breeding – just about every major Thoroughbred racing country has one.
Germany, Japan and France have national Breeder Premium Schemes, Australia have provincial ones as do America, and a recent publication indicated that due to the decline of breeders in the United Kingdom, their TBA were strongly considering introducing a Breeder Premium Scheme (TDN, 19 July 2018) to assist breeders and encourage the growth of the Thoroughbred breed to support their racing requirements needed.
The KZN Breeders Premium Scheme has assisted the KZN Breeders Club in purchasing UK Gr1 winning sire Crusade, who produced 4 Stakes Winners last season and an impressive 40% winners to runners percentage. His average earnings per runner was R50 518 each for their connections.
Another stallion acquisition whose purchase was assisted through the KZN Breeders Premium Scheme is the Gr1 producing Await The Dawn, who has been a very sad loss to breeding in KZN. The first stallion to stand in South Africa to have the farm staff involved in the syndicate at Summerhill, the sire of Gr1 SA Derby winner Hero's Honour has led the stats each year impressively.
A percentage of funds from the Breeder Premium Scheme is also being set aside each year to purchase another stallion prospect for KZN in the future.
A decision was also made by the KZN Breeders Club to contribute financially towards the KZN racing jurisdiction of Gold Circle to assist with various costs including the increase of stakes etc, and will be reviewed annually.
The KZN Breeders Race Day, exclusively for horses registered with the KZN Breeders Premium Scheme was also designed to reward the owners and trainers who support and buy #kznbreds at sales – with stakes of over R2,6-million to be won on the day over 9 races, including the feature of the day – the KZN Breeders Million Mile.
In addition to the stakes, R275 000 worth of sales vouchers are given to the winners and first three places on the day, towards the purchase of a #kznbred yearling at the KZN Yearling Sale, which always takes place the week after the KZN Breeders Race Day and before Vodacom Durban July day.
With breeders nationally feeling the effects of a subdued economic climate and taking major knocks at sales countrywide with sales averaging below what it costs to produce a Thoroughbred to sales age, a Breeders Premium Scheme is greatly appreciated to assist in the running costs of a Thoroughbred breeding operation.
In order to qualify for Premiums in KZN, a breeder must be registered with the NHRA for the claim season and be a registered member of the KZN Breeders Club, as well as stand a mare in KZN for that duration.
The breeder also needs to prove their reinvestment (buying of mares and fillies for stud, KZN stallion shares and services) in order to receive back a claim and breeders are only refunded the money that they have already paid out.
Breeders may send their mares out of province to be covered by sires outside of KZN, but in order to qualify as a #kznbred, the mare must return to KZN by 1 March each year, and she must be covered by a KZN resident sire every alternate year to qualify.
For the racing season of 2017 / 2018, KZN from small numbers compared with the national figures, produced two Gr1 winners – Takingthepeace (who won two legs of the Triple Tiara) and Hero's Honour, both bred by Summerhill Stud.
KZN produced 57 Black Type horses for the season.
Those 57 Black Type horses sold for a combined total of R6 095 000 – and earned their connections R31 622 893 on the tracks – those figures broken down individually, saw those horses sold at sales for an average of R106 929 each, and earning their owners a whopping R554 787 each. These figures exclude restricted races.
‹ Previous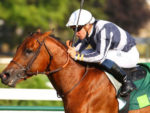 Exciting Erupt Arrives At Maine Chance