Trainer Ricardo Le Grange rounded off three winners on the Kranji weekend double-header when he enjoyed a Sunday double, including a feature winner for staunch owner, Fred Crabbia.
Michael Lee reports on www.turfclub.com.sg that just when Rafaello's bid for another win looked to be reaching a stalemate, the honest sprinter sprang out of the pack to give yet another reminder of his genuineness in the SGD $125,000 Kranji Stakes A race over 1100m on the Polytrack.
Though more prolific on turf (seven wins versus one on Polytrack), the Oratorio six-year-old was all heart – or "guts and glory" as his jockey Barend Vorster said – as he came pegging Special King (Azhar Ismail) back inside the last furlong.
For a few fleeting seconds, Rafaello looked to be paddling away on the one spot after journeying three wide among the leading bunch.
Lincoln Road (John Powell) proved to be a bit of a pest racing in close attendance for most of the race, again coming across at the 300m, with Rafaello looking like he was fumbling around to find any extra.
But once Vorster had him rebalanced and thrusted for a final push, he was chasing shadows no more. As he started to lengthen up, he went bearing down on Special King before putting some breathing space in between.
Favourite Distinctive Darci (Vlad Duric) sailed home on the outside, but a bungled start took its toll on him late as he could only knuckle down to within a length off Rafaello. Special King, who was rising in class, exceeded expectations by hanging on for third place. The winning time was 1min 5.29secs for the 1100m on the Polytrack.
Without taking anything away from Rafaello, who was recording his ninth win for South African owner Fred Crabbia, Distinctive Darci was considered a certainty beaten by most.
You can't afford to miss the start by three lengths in a Kranji Stakes A race replete with quality like Sunday's, and with the steadier of 59.5kgs on top of that. But the Darci Brahma five-year-old's effort to finish runner-up only a length behind a horse he was in receipt of three kilos, was all the more enormous and praiseworthy.
Hard luck story for his connections, but not for Rafaello's, who in the process did not fail to salute one of their key players, unfortunately not on hand on Sunday, but drawn away by family obligations for a much happier event.
"I dedicate this win to Nooresh Juglall who became a first-time father to a son in Mauritius today. Congrats to him and his wife Chaaya," said Le Grange who went on to saddle a race-to-race double with Super Power (Alan Munro) taking out the Lucky Last, the $80,000 Class 3 race over 1200m.
"Nooresh loves this horse and normally rides him. He rode him to all his previous wins, but Barend has done a fantastic job replacing him today.
"The horse looked like he hit a flat spot halfway up the straight. I don't know what happened, I'll have to speak to Barend later.
"It was another solid win from Rafaello. This distance seems to be his bread and butter, even if we've stretched him to 1400m and beyond before.
"We could do that again, but we'll just enjoy today's win and worry about his next races another day.
"Every time those black and red colours win, they make us remember Rocket Man. Fred Crabbia has been a great supporter of ours from Day 1 and it's great to see him winning another race today."
Vorster said he just had to keep Rafaello's momentum up in the running even if he didn't enjoy the cosiest of trips.
"I had to stay with him just to make sure he does not drop off," said the South African jockey who was scoring his first winning ride on Rafaello at his fifth try.
"He took a while to wind up for a couple of strides when JP's (Powell) horse came across him.
"I took him back to the inside, and he was all guts and glory once he put his head through. He showed again what a good quality horse he was.
"I'd also like to dedicate that win to Nooresh and his newborn baby. And a big thank you to Fred, who has been one of the staunchest owners at the stable."
Juglall would probably have been aboard Rafaello on Sunday, but the proud new dad would not have missed the arrival of his bundle of joy for anything in the world – not even a ninth win on one of his pet horses.
"Both mum and baby are doing very well. He's a beautiful boy and was born at 10 in the morning, but we haven't named him yet," said Juglall.
"I'm happy Rafaello has won again. He's one of my favourite horses, and well done to the team back home."
With a handy record of nine wins and nine placings from 33 starts, Rafaello has now amassed around $740,000 in prizemoney for Crabbia.
Ed – Rafaello is by the Australian-bred Oratorio (Stravinsky)
‹ Previous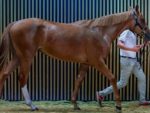 Magnier Chases The Best Pharoahs