Newly crowned SA Champion jockey Lyle Hewitson was at Greyville on Super Saturday and besides proving an eloquent and informative studio guest for some of the feature previews, was proudly acknowledged by his sponsors.
Representing the leading Cape breeders and winemakers, Avontuur GM Pippa Mickleburgh handed Lyle a beautifully bound 'scrapbook' of his achievements in what has been a remarkable season that saw their man win the senior championship while still an apprentice.
Lyle rode the first two Gr1 winners of his short career at Greyville only weeks earlier and was on track on Saturday with the support of a knee brace and crutches after a freak accident at Fairview a week earlier.
Ironically one of his originally carded rides, and a filly he felt could have given him a third Gr1 success, did win in the end! Return Flight bolted home in the Gr1 Thekwini Stakes to give replacement rider Anton Marcus his 101st Gr1 win.
"Good luck to Anton. I rate Return Flight very highly. I am going to be strong and philosophical about missing out and wish everybody connected with her, including Mr Sean Tarry and Mr Chris van Niekerk, the best of luck. She is very good!"
He also told the Sporting Post that the handover of the gift from Avontuur had proven an emotional gesture of some note.
"It took my breath away. What a lovely thought and such a personal gift – I will treasure it forever. I am so proud to have carried the Avontuur brand and am fortunate to have been selected early by them," he added.
Lyle is hoping to be back in time for the PGI Jockey Challenge in Singapore on 25 September. He commenced therapy and rehabilitation today (Wednesday 1 August), which includes time in the Hyperbaric Chamber, Ozone Sauna Therapy and plenty of physiotherapy.
"Anton (Marcus) has just been through an injury recovery and has been a big help to me. I need to keep active and maintain the blood flow to the knee. The next six weeks is going to feel like a lifetime but I have an exciting season ahead of me and plenty to work towards," said Lyle in closing.
‹ Previous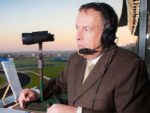 Chrome Turns To Fold