Mike de Kock has slammed Phumelela's lack of action with the steel rails at Randjesfontein in the wake of a serious accident involving Apprentice Mpume Mjoka.
Mjoka was bady injured in a fall on the work track at Randjesfontein last Wednesday. He had to undergo two surgical procedures to repair damaged nerves in his knee.
"Mpume is a positive young man, which will help with his recovery, but he'll be out for a long time and it's a blow to his career. He hurt himself falling on the steel rails at Randjesfontein. We've long asked for those rails to be replaced with plastic rails and nothing has been done. Will it take someone's death to convince the authorities that we need plastic rails?" said de Kock on his website, www.mikedekockracing.com.
Mjoka was diagnosed as having dislocated his knee but also having suffered a lot of nerve damage. He had to have two operations to correct the problem and at one stage there was a thought that the injury could be career threatening.
After the second operation, the doctors were able to save his leg but he could be out for as long as two years, if he rides again.
Mpume represented South Africa at the prestigious Longines Future Stars meeting at Chantilly in 2017, steering the Danny de Waele-trained Beaupreau to a 1.14 length victory.
He is currently in the fifth year of his apprenticeship and is based at the Gauteng Jockey Academy.
‹ Previous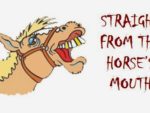 Botes Runner Worth Including Today