Top Cape jockey Richard Fourie has set himself a target of 200 winners this season and the Chrigor Stud-sponsored rider will be freelancing and riding work at the Snaith Racing headquarters.
Fourie has ridden six winners in just two Cape meetings of the new term for the Snaiths in what has been a dream start to the new term.
While his past season best total – an injury interrupted one at that – is 143 winners, achieved when runner-up to S'manga Khumalo in 2013/14, Richard confirmed that he was no longer the retained rider for Chrigor Stud.
Richard's morning road trip over the past season to the magnificent Woodhill Racing Estate of the Kotzen team out at Paarl will now be replaced by the cross-the-Peninsula route from his West Coast home to the Snaith Phillipi HQ.
The 33 year old Melkbosstrand based father of three daughters, a past champion apprentice, and considered one of the best lightweight jockeys in the country, would not commit to going all out for the SA Championship title as a specific goal.
"I don't personally believe in the chase-and-travel concept of journeying  far and wide and riding every day of the week in pursuit of the title. There has to be a balance in life – between family, work and recreation. A healthy body, healthy mind and happy life brings out the best in the professional sportsman. My wife Tatum plays a huge supportive role in my success. I have set my target of 200 winners and if that brings me into a position where I am able to go for the title, then that will be wonderful,"he said.
Richard said that he had a big Cape Summer Season to focus on for the next seven months.
He speculates that he would start travelling further than the Eastern Cape from about March.
"My sponsorship with the Hattingh family's Chrigor Stud  remains in place but I will be focussing on riding work for Snaith Racing.  They believe in rewarding hard work with quality rides. They have a powerful string. So I will be making every effort from my side. The arrangement remains purely freelance, so I can also ride for whoever I am able to. I am looking forward to making a big go of it this season," he said.
‹ Previous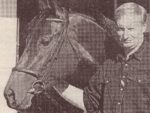 Chris Snaith – Churning Out The Winners