One of the world's best riders Joao Moreira, the former Hong Kong champion jockey, made it a 70-1 double on the 2018 Dubai Duty Free Shergar Cup card and clinched the ride of the day honours on Green Power.
After his success on Berkshire Blue in the Dubai Duty Free Shergar Cup Classic, Moreira also won the finale, the Dubai Duty Free Shergar Cup Sprint aboard Green Power, finishing a neck ahead of the Hayley Turner-ridden Roundhay Park (5/1).
He was beaten by Turner for the Alistair Haggis Silver Saddle by just a point – he finished up on 38 with Turner on 39, but was awarded ride of the day on Green Power.
Joao Moreira was delighted with his second trip to Ascot for Dubai Duty Free Shergar Cup Day, which attracted a crowd of 31,071.
"Congratulations to the Girls. They have done an amazing job and deserve it," he said. "Third is not the right thing, but I am extremely happy to have two winners on my back.I am looking forward to another day here – if I get invited to come back!"
Captained by Josephine Gordon with Hayley Turner and Hollie Doyle providing the support, the Girls Team were crowned the 2018 Dubai Duty Free Shergar Cup champions with 76 points; second were Europe with 70. The Rest of the World took third place with 48 points, and GB & IRE trailed in fourth with 46 points.
Hayley Turner said: "I've been coming to the Shergar Cup for 12 years now and it is a very special day. The progression of female jockeys is something that is really being pushed and discussed, and this is a fine example of how well girls can do in racing.
"It's been a fantastic day. The whole family is here and they are having the best day ever.
"It was Alistair Haggis who got me on to the team 12 years ago – he really pushed for me, so I think he is up there looking down on me."
The Girls captain Josephine Gordon said: "Today proves that girls are better than boys! It's brilliant to compete against the best jockeys in the world."
Hollie Doyle, who partnered Tis Marvellous to victory in the opening Dubai Duty Free Shergar Cup Dash, was delighted to be part of the winning team.
She added: "It's been an amazing afternoon. It was a very close finish, but I am delighted that we have won."
‹ Previous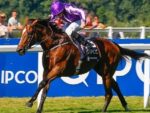 Irish Powerhouses Honoured