Longstanding South African owner Fred Crabbia, who has enjoyed many winners with Ricardo Le Grange, says he would not hesitate in recommending Singapore as a racing destination.
Crabbia enjoyed a successful past season in South Africa with his top 5yo It's My Turn scooping the SA Champion Stayer award at Equus on Tuesday evening.
The son of Dynasty, who won three top staying features in five weeks, was rejected by the Vodacom Durban July panel, to many people's dismay. He went on to end the season on a high with a smooth victory in the Gold Cup.
On the subject of Singapore, Fred says that,  unlike in South Africa, where keep costs had spiralled exponentially and stakes had stagnated, the mathematics of racing horses in Singapore made economic sense.
"Ricardo is a first class guy – straight down the line – the kind of trainer any owner would want."
See Ricardo Le Grange's invitation to race in Singapore here
He added that there are also no grey areas in Singapore.
"Things are well managed and specific. Clear policies are in place. That means you know where you stand and there is no unnecessary aggravation. I don't want to harp on It's My Turn's Vodacom Durban July exclusion, but that is first hand substantiation that racing here needs more direction. I cannot understand how Vodacom allows the negativity around their big race every year. If specific guidelines were in place, then nobody can ever feel hard done by. Gold Circle can't have it both ways. If the July is an invitational race, it surely doesn't warrant automatic Gr1 status?"
‹ Previous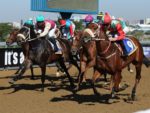 Barrier Trials Catching On