Multiple SA Champion breeders Summerhill have announced that their dual Gr1 star Rabada will return to the place of his birth this season to stand as a stallion.
"While I have to admit to some personal sentimentality, it's every stud man's ambition to stand a horse of his own breeding. The end of 2018 will mark forty years of our existence at Summerhill; in that time, we've bred a number of top class performers as you know, yet I have to say that in Rabada, we've at last reached the point of standing a horse that embodies just about everything we as breeders have been trying to produce for the past three hundred years. Apart from being an outstanding racehorse, he is the embodiment of physical perfection, and moves as well as any horse I've had the privilege to behold," said Mick Goss.
So another chapter in one of the great success stories of South African breeding is set to be written.
It's 53 years since the nation's favourite son, Sea Cottage survived the assassin's bullet in the shadows of Durban's Ellis Brown viaduct.
And a lot of the 'Duzi's' water has passed under the portals of that edifice since the Summerhill upstarts, Imperial Despatch and Bianconi levelled their patrician counterparts in the season-defining Champion Juvenile.

Yet it ranked, and it rankled even more, as the biggest piece of local racing affrontery when the aptly-named Rabada claimed the 2016 crop's highest rating in the same event with his thunder bolt against the cream of the nation's bluebloods. On the floor that day were the subsequent Equus champion and Triple Crown laureate, Abashiri, and the regally related dual Group One performer, Prospect
Strike.
Yet it was all quite predictable: their hero had entered the fray off an unbeaten pair of opening rounds and a knockout race record in the Listed Gatecrasher.
His lucrative migration to the East coast called now for the young man to go West, where sadly a nasty collision put paid to a tilt at the time-honoured Cape Derby, and almost his career. Only an act of ambitious clairvoyance could have divined a return bout between what looked like the emergence of a racing totem and the Derby hero, It's My Turn, but few remembered what Rabada was made of.
That irresistible combination of grunt and grit took him to within a half-length of the laurels in the KZN Guineas, and voila! – the Derby winner became his next Gr1 victim in the Daily News.
It was all so predictable: ever since Imperial Despatch had served as the flagship in the R2 million epic, the same tide had borne a positive armada of top performers in the race from the same farm.
In the process, Rabada would become the only colt of his generation to win Gr1's at two and three, claiming two of South African racing's monuments. His reputation was intact. His record read 10 starts, 5 victories and 3 seconds.
The other two were claimed by injury, the last one a terminator. A multimillionaire with R2.6 million in the locker, he'd banked ten times his cost at an average of R265 000 a start. Some racehorse.
Yet in so many ways, it was also predictable.
The best South African-performed stallions and some of the country's greatest racehorses, Jet Master, Dynasty, Captain Al and Foveros, all had rather plebeian female origins; it was the 'mongrel' in them that made them the heroes of their era; it was the grunt and the grit that hallmarked their progeny.
This week, it was announced that Rabada was returning to his original home to perpetuate the farm's record in championing the cause of the Northern Dancer story. Irresistibly, they're asking if it's not all too predictable?
"I don't know anything about predictions, I'll leave that to the prophets" said stallion barn boss, Richard Hlongwane. "What I know is that I've worked with several Champion stallions in my twenty eight years at Summerhill, and I've seen Sadler's Wells, Danehill and Galileo, Sunday Silence and Deep Impact during my stints at Coolmore in Ireland and more recently at Sheikh Mohammed's Darley in Japan. I can honestly say Rabada was a standout from the day he was born; he ranks alongside the best of them for his physique, his power and his presence, and like all of them, he could walk for England (or Ireland or Japan!)".
Now that's predictability!
What Mike Azzie Said
"An absolute joy to train, he was my pick for the July ahead of Abashiri; I just wish we'd been able to run him there. He had brilliant two year old speed and the class to carry it over 2000 metres. Remember, he won the Daily News without the stick, which tells you that besides his natural talent, he was as genuine as the day was blue. Despite the problems I had with his feet, he was as good a horse as I've had the privilege to train. Imagine how good he'd have been if we'd not battled with his feet?".
‹ Previous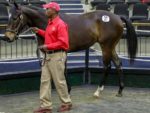 Positive Trends Continue