Northern Cape Champion Muzi Yeni's innovative ride from the front to win the Turffontein second race on Saturday on the Robbie Sage trained Dromedaris has received some mixed reaction from observers – including to the detriment of the other five riders in the 2400m handicap.
The Northern Cape champion, Yeni had Dromedaris out and galloping and the 8-1 son of Global One was never headed to win by 8,25 lengths in a time of 152.03 secs.
Odd Robb plodded into second with the 2-1 favourite Walter Smoothie beaten 12 lengths out of the quartet.
Commentator Alistair Cohen said in the closing stages – 'Just when you thought you'd seen it all!'
Pre-race tactical plans often don't work out for a variety of reasons.
Take the fancied Vomandla in the Kenilworth second race on Saturday.
The daughter of Sail From Seattle came from way off the pace on debut to get beaten narrowly.
On Saturday she was up with the gallop. That could be experience and awareness from his first start – but she simply failed to kick in the same fashion as she did on her debut.

A few points put to the Sporting Post by various readers on Saturday afternoon:
Dromedaris was allowed to dictate matters seemingly at his will, and it was only when he was 75m in front halfway down the straight that any of his opposition appeared to be concerned.
Dromedaris was apparently the highest traded horse on Interbet
The favourite Walter Smoothie, not well in but an improving sort, won his last start (beating SA Champion Stayer Hermoso Mundo) from gun to tape. There was no effort to get him to lead on Saturday.
Walter Smoothie's rider Marco van Rensburg declared in a  pre-race interview that he was under strict instructions to ride his horse differently today.
The opposition jockeys included a greenhorn 2,5kg claimer and champion jockey with 30 years experience.
.The Stipes are surely obliged to open an inquiry into this race and consider charges of unprofessional riding.
What are your thoughts?
‹ Previous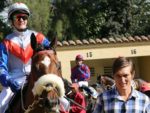 Apprentice Heads For Russia