Traditionally one of South Africa's most popular auctions, the BSA Ready To Run Sale is due to take place this year at the TBA complex in Germiston on 4th of November, and will be held on the same day as the Johannesburg Mixed Sale.
Bloodstock South Africa have announced that the catalogue is now online and can be viewed live at www.bsa.co.za
It is is made up of 111 well bred 2yos, and this strong looking sale looks sure to produce its share of high class runners.
The Ready To Run Sale has a long and proud of history of producing outstanding athletes, many of whom were acquired for very reasonable prices.
Recent past graduates of this sale include former Horse Of The Year Igugu, as well as such graded stakes winning stars as Pierre Jourdan, Redcarpet Captain, Chestnuts And Pearls, Rich Girl, Tamaanee, and Dylan's Promise.
Top sires represented at this year's auction include all of Captain Al, Duke Of Marmalade, Dynasty, Elusive Fort, Gimmethegreenlight, Pomodoro, Querari, Silvano, Trippi, Var, Visionaire and What A Winter.
Young stallions represented by members of their first local crops this year include triple Gr1 winner and Equus Champion Capetown Noir, the Captain Al sired Equus Champion Captain Of All, Jet Master's well bred Gr2 son Divine Jet, multiple Gr1 winner Linngari, globetrotting Equus Champions Soft Falling Rain and Vercingetorix, and Redoute's Choice's multiple Gr1 winner Wylie Hall.
There are a large number of well bred lots on offer at the 2018 Ready To Run Sale notably:
Lot 2 –a Capetown Noir ½ sister to Merchants winner The Thinker
Lot 6 –a Capetown Noir ½ brother to 8 winners including stakes winner Onehundredacrewood
Lot 7 –a Capetown Noir ½ brother to G3 winner Royal Pleasure
Lot 14 –a Capetown Noir colt out of Gerald Rosenberg Stakes winner Spring Garland
Lot 16 –a Capetown Noir ½ brother to G2 winner Winning Leap
Lot 17 –a Silvano colt out of G2 winner Surabi
Lot 19 –a Visionaire ½ brother to 4 stakes horses including Summer Cup second Shogunnar
Lot 20 –a Var colt out of Oaks winner Sweetie Pie
Lot 21 –a Dynasty filly from the family of G1 winning siblings Ectot and Most Improved
Lot 22 –a Visionaire ½ sister to multiple stakes winner Salutation
Lot 25 –a Silvano colt out of G2 winner Waywest Goddess
Lot 29 –a Visionaire ½ brother to champion Comanche Brave
Lot 33 –a Gimmethegreenlight colt out of a G3 winning Dubawi mare
Lot 43 –a Visionaire filly out of G2 winner Bridal Paths
Lot 50 –a Soft Falling Rain ¾ brother to record breaking stakes winner In Like Flynn
Lot 63 –a Soft Falling Rain colt out of a G2 placed daughter of Hard Spun
Lot 73 –a Visionaire half-brother to SA Derby winner Hero's Honour and G1 filly Railtrip
Lot 84 –a Visionaire filly out of Syringa Handicap winner Ithala
Lot 85 –a Trippi half-brother to multiple G1 winner and sire Rabada
Lot 91 –a Duke Of Marmalade half-brother to G1 winner and star filly Takingthepeace
Lot 98 –a Var own sister to G1 filly Schiffer
Lot 100 –a Soft Falling Rain filly out of G2 performer Mombasa
Lot 101 –a Captain Al colt from the family of Red Ray and Set Afire
Lot 104 –a Visionaire half-sister to Mauritian champion Solar Star
Lot 108 –a Pomodoro filly out of stakes winner Pacific Breeze
‹ Previous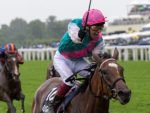 Triple Crown Winner To Coolmore