While Grant van Niekerk was having a terrific day at Sha Tin on Sunday, his colleague Callan Murray didn't enjoy quite the same good fortune at the opening meeting.
Callan broke his nose going to the start on just his second ride of the new season.
The brave jockey finished the day  before going for surgery after the racemeeting late on Sunday evening.
Callan told the Sporting Post that he will be okay to get back into the saddle on Tuesday.
"I have been given the go ahead by my doctor to ride in 24 hours. But I'm afraid my face won't be very pretty!" he laughed, saying that he was determined not to allow the incident to knock his plans to make a big impression this season.
Don't worry Callan – talent – not looks – count in this game!
‹ Previous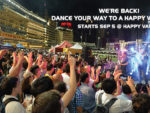 What A Start, Grant!