Entries have closed for the Cape Premier Yearling Sale (CPYS), hosted by Cape Thoroughbred Sales (CTS), to be held at the Cape Town International Convention Centre on 23 and 24 January 2019.
Attention at CTS has now shifted to getting everything perfect in preparation for staging a world-class event worthy of representing the very best of South African thoroughbred breeding.
CTS put together a team comprising Kerry Jack, Grant Pritchard-Gordon (Badger) and John Kramer who are currently visiting all the stud farms to look at, and discuss, the almost 300 entries as a first step towards finalising the catalogue – one that always delivers on pedigree, conformation and class. With the catalogue due to be finalised by the end of October, there's an enormous amount of work to do – a task being dealt with passionately by the trio.
Wéhann Smith, CEO of CTS, is optimistic after examining the list of entries earlier this week. "The quality of each renewal of the Cape Premier Yearling Sale seems to improve every year! Judging by the pedigrees of next year's entries, the 2019 CPYS will be no exception! says Smith.
"And we, as a business, are evolving to meet the challenges and opportunities we anticipate as we look forward to the future.
"We are proud of the work we've done in the past, but we are now entering into an exciting new era for our business with renewed focus, energy and ideas. Our initial goals have been met and we have created a vibrant and sustainable brand in an industry that needed competition in order to grow and innovate. This is even more important for every stakeholder today as we collectively work together to regroup to build a better, stronger and more resilient horse racing industry" continues Smith.
The Sale has built a reputation of producing champions, with more than 10% of yearlings catalogued from inception becoming stakes winners. It has also produced no fewer than 32 Grade 1 winners since its inception in 2011. This year's entries include 10 yearlings by international superstars including Frankel, Uncle Mo, Camelot and Zoffany, while local champion stallions such as Dynasty, Silvano, Captain Al, Var, Querari and Trippi are well represented with 80 entries.
Producing quality catalogues is increasingly important, seeing that direct foreign investment from international buyers grew to 33% of total turnover at the 2018 CPYS – amounting to over R36 million of the almost R111 million in sales. Progress by the SAEHP team in lobbying for more favourable export protocols is ongoing, making CTS optimistic that a breakthrough may be reached that will benefit the local industry massively. Any progress in this regard will further strengthen the international buyer benches, which are already significant with many familiar and new buyers already having confirmed their attendance.
The CTS operational team remains unchanged under Wéhann Smith, with Kerry Jack (Bloodstock Manager); Kirsty Coertze (Sales Manager); Jacques Muller (Finance and Credit Manager); and Josi Marais assisting Smith while also managing Travel & Accommodation. If you haven't already marked CPYS 2019 on your calendar, it's time to do so!
‹ Previous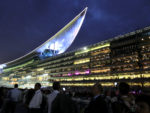 Come Buy In Dubai