Coolmore America has announced that US Triple Crown winner Justify will stand for $150,000 during his first breeding season at Ashford Stud in Versailles, Kentucky.
www. Bloodhorse. com reports that Justify's stud fee was released on Sunday, along with fees for Ashford's stallion roster, with Mendelssohn, who finished second in the Aug. 25 Runhappy Travers Stakes (Gr1), the only horse whose fee has not been determined.
Fellow Triple Crown winner American Pharoah , who swept the American classics in 2015, will stand for $110,000 in 2019 after he had a private fee in 2018.
Another new stallion on the Ashford roster is Mo Town at $12,500.
The son of Uncle Mo  won the 2016 Remsen Stakes (G2) and the 2017 Hollywood Derby (Gr1T) during his 10-race career. Uncle Mo's fee will hold steady at $125,000 in 2019.
Ashford Stud's 2019 Fees
Air Force Blue   
$20,000 (2018)
$20,000 (2019)
American Pharoah    
Private (2018)
$110,000 (2019)
Classic Empire  
$35,000 (2018)
$35,000 (2019)
Competitive Edge 
$7,500  (2018)
$7,500 (2019)
Cupid  
$12,500 (2018)
$12,500 (2019)
Declaration of War     
$25,000  (2018)
$25,000 (2019)
Fusaichi Pegasus             
$7,500  (2018)
$7,500 (2019)
Justify  
New
$150,000 (2019)
Lookin At Lucky
$17,500 (2018)
$17,500 (2019)
Mendelssohn   
New
TBA (2019)
Mo Town 
New
$12,500 (2019)
Munnings   
$25,000  (2018)
$20,000 (2019)
Practical Joke    
$30,000 (2018)
$30,000 (2019)
Tale of the Cat  
$25,000 (2018)
$25,000 (2019)
Uncle Mo     
$125,000  (2018)
$125,000 (2019)
Vancouver       
$15,000 (2018)
$15,000 (2019)
Verrazano     
$17,500  (2018)
$15,000 (2019)
‹ Previous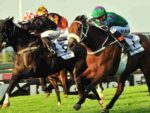 KZN Breeders Honour Their Stars