The Vodacom Durban July of 2018 was adjudged the best horseracing event at the Gambling Industry Awards function held at Carnival City recently.
Gold Circle's Ken Tweddell and Raf Sheik received the award on behalf of the KZN-based racing operator.
Internationally acknowledged as Africa's Greatest Horseracing Event, the Vodacom Durban July has been run without interruption every year since Campanajo crossed the line first in the Durban Turf Club Handicap over a 1600m on the western vlei at Greyville on Saturday, 17 July 17,1897.
Not even two world wars and a soggy track in 1989 that saw the early races on the card abandoned, have prevented the race taking place.
Vodacom came on board as the big race sponsor in 2002.
​The Gambling Industry Awards is the only African gambling/gaming industry-wide awards which recognises excellence in the industry and encourages transparency, excellence, efficiency and ethical conduct throughout the industry. The GI Awards were introduced in 2015 and has grown this year from 3 to 17 categories.
‹ Previous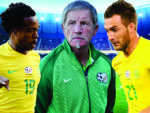 African Cup of Nations Qualifier