The final field for the third running of South Africa's 'biggest race', the R750 000 WSB Grand Heritage to be run over 1475m on 29 September down the Vaal straight was announced today.
The two previous runnings of the stampede have both been won by Gavin Lerena and the former SA champion will partner the exciting 4yo Mardi Gras for the Johan Janse van Vuuren yard next Saturday.
In 2016 Lerena won on Irish Pride for the same team while in 2017 he got the outsider Forest Fox home for Paul Peter.
The Ashley Fortune team celebrate their first runners in the race with the former Cape based do of Tsitsikamma Dance and Rings And Things carrying the flag for the Vaal-based outfit.
Watch this space for our full preview!
WSB GRAND HERITAGE (Non-Black Type)
1
27
Mujallad (AUS)
62
101
T A
B Fayd'Herbe
Mike de Kock
2
14
Finchatton
61
98
A
Wes Marwing
Gokhan Terzi
3
11
Kings Archer
61
98
BA
P Strydom
Stuart Pettigrew
4
19
Zouaves
61
98
A
C Maujean
Geoff Woodruff
5
18
Pietro Mascagni
59
95
A
R Simons
Mike de Kock
6
10
Irish Pride
58
91
A
……………
J A Janse van Vuuren
7
20
African Ruler
57.5
91
TBA
B Lerena
Paul Peter
8
3
Divine Odyssey
57
91
A
……………
J A Janse van Vuuren
9
13
Purple Diamond
57
87
T A
……………
Sean Tarry
10
26
Mardi Gras
56.5
90
A
G Lerena
J A Janse van Vuuren
11
30
Soldier On
56
89
BA
M V'Rensburg
Stuart Pettigrew
12
22
Chepardo
56
88
BA
……………
Alec Laird
13
4
Hakeem (AUS)
55.5
88
A
……………
Mike de Kock
14
12
Sail For Joy
55.5
87
A
R Munger
Fabian Habib
15
16
Bold Viking
55
86
TBA
……………
Sean Tarry
16
17
Rings And Things
54
85
A
R Danielson
Ashley Fortune
17
1
Tsitsikamma Dance
54
85
BA
K de Melo
Ashley Fortune
18
15
Full Of Attitude
53.5
84
T A
M Yeni
Joe Soma
19
23
Huyssteen (AUS)
53
83
A
……………
Lucky Houdalakis
20
21
Count Tassilo
53
82
T A
……………
Sean Tarry
21
29
Daffiq
53
82
A
J Penny
Gokhan Terzi
22
6
Lake Kinneret
52.5
82
A
……………
St John Gray
23
9
London Secret
52
81
A
……………
Sean Tarry
24
24
Dan The Lad
51.5
79
A
……………
Paul Matchett
25
2
Rebuked
51.5
79
TBA
……………
Stephen Moffatt
26
7
Bold Coast
51
78
A
K de Melo
Stanley Ferreira
27
8
Nephrite
50.5
77
T A
……………
Lucky Houdalakis
28
5
Danza
50
76
A
……………
Alec Laird
29
28
Clever Guy
59.5
95
TBA
Reserve 1
Stephen Moffatt
30
25
Pilou
55.5
87
T A
Reserve 2
Sean Tarry
Same Trainer – Not Coupled on Tote
(1,5,13) (2,21) (3,11) (6,8,10) (9,15,20,23,30) (12,28) (16,17) (19,27) (25,29)
‹ Previous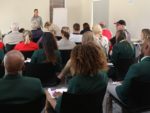 Mare Scoring – How It Works