South African champion jockey and champion apprentice Lyle Hewitson suffered something of a blow to his confidence in advance of the PGI Jockey International at Kranji on Tuesday when he was suspended for careless riding at his first meeting in Singapore on Sunday.
The superbly talented Hewitson partnered Dicton, who finished third in the day's feature, the $150,000 Gr3 El Dorado Classic, behind SA trainer Ricardo Le Grange's King Louis.
The Stipes reported:
App L Hewitson, the rider of DICTON, pleaded guilty to a charge of careless riding under MRA Rule 44(9)(a)(ii) in that he permitted his mount to shift inwards, at the Winning Post on the first occasion, to a point where there was insufficient room for GOLAZO, resulting in that horse being severely crowded for room and eventually losing its rightful running.
When deciding on penalty, the Stewards took into account his record, guilty plea, the degree of interference and carelessness and submissions from App Hewitson that he has been engaged to ride at the Singapore Race Meeting on Tuesday, 25 September 2018.
The Stewards determined to suspend his licence to ride in races and acting under MRA Rule 48(5), the commencement of the suspension was deferred to begin on Wednesday, 03 October 2018 until Sunday, 07 October 2018 both dates inclusive (two Singapore Race Days). He was advised of his Right of Appeal.
Hewitson partners with Muzi Yeni and Aldo Domeyer in the PGI International on Tuesday.
Muzi Yeni finished third in the sixth race, the SGD$125,000 Flax 2012 Stakes, on Eye Guy.
TAB will operate a special Pick 6 pool – boosted by a TAB bonus – on the Premier Gateway International Jockeys Challenge race meeting to be held at Kranji on Tuesday, 25 September.
The pool will start with a R150,000 add-in from TAB and the total net pool is expected to be about R400,000.
The Pick 6 will be on Races 2 to 7 with Leg 1 at 12h55 South African time. Normal TAB Pick 6 rules will apply and any carryover will go into the TAB carryover pot utilised to create Pick 6 MegaPools on selected days.
"It's a special occasion and the R150,000 add-in will guarantee a good-value payout for our customers," said Vee Moodley, Executive Director Sports Betting at Phumelela.
‹ Previous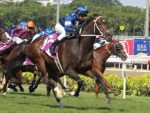 The King Rules