Newly crowned SA Champion Jockey and Champion Apprentice Lyle Hewitson, who suffered a knee injury in a fall at Port Elizabeth on 20 July 2018, will step out at Turffontein on Saturday for the first time wearing his dual championship crowns.
The Avontuur sponsored star was dislodged from the Yvette Bremner runner, Press Release, on his way down to the start at Fairview on 20 July and X-rays revealed a fine chip on his left knee.
Lyle, who only turns 21 on 30 October, rode the first two Gr1 winners of his career last season. He won the Gold Challenge on Undercover Agent and the Garden Province on Redberry Lane. Despite being off for the last few weeks of the season, he secured both the national apprentice and senior title.
He has spent close on two months on the bench and has used the hyperbaric chamber, ozone sauna therapy and physiotherapy to expedite the healing process.
Lyle is starting slowly in his comeback with only two rides in New Zealand (sixth race) and Count Tassilo (ninth race) – both for Sean Tarry.
Lyle will be keen to get race fit as he joins colleagues Muzi Yeni and Aldo Domeyer in a youthful SA team to compete in the PGI Jockeys Challenge, presented by Phumelela Gaming & Leisure and Tabcorp, which will be hosted by the Singapore Turf Club at Kranji on 25 September.
‹ Previous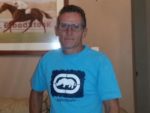 Sampson Grabs Five At Borrowdale