Trainer Richard Hannon had a lucky escape after the plane he was travelling in was involved in a dramatic collision on the rain-sodden landing strip at Haydock on Saturday afternoon.
The Racing Post reports that the plane clipped wings with an empty aircraft that had shortly before brought Sir Michael Stoute, Ryan Moore and Gerald Mosse to the track.
Nobody was hurt in the incident but Hannon, who was travelling with his apprentice Gary Mahon, Andrew Balding's wife Anna Lisa and his twin brother Henry, was clearly shaken.
The trainer said: "It was horrible. The runway wasn't suitable – we slipped and skidded. But we're all okay, and that's the most important thing.
"I feel sorry for the pilot [Brian Hamilton] as he's a very good pilot who doesn't take chances. We've been using him for years and he's top class.
"It's waterlogged there, it's very dangerous. We don't need to take chances like that. I don't think the planes are in very good nick now, but we're all right and that's the main thing."
Haydock clerk of the course Kirkland Tellwright said: "Two planes have collided and both have been damaged to such an extent they won't be flying out of here, but thankfully no-one is injured."
Dickon White, the newly installed north-west regional director for the track's owners Jockey Club Racecourses, said: "First and most importantly we're glad no-one has been hurt. The racecourse airfield is constantly maintained, was inspected before racing and was passed in full working order, and has an operative based there."
‹ Previous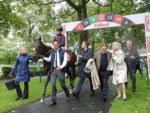 Tin Turns To Gold