A former SA Champion rider says the jockey talent pool in South Africa has lacked genuine depth for some years now.
Top jockeys enjoy support from the good stables and get the best rides. And when a youngster falls behind, it is a vicious circle and whirlpool that is very difficult to escape from.
"I don't have the answers as to why standards should have deteriorated," quips Andrew Fortune, one of the most charismatic and outspoken personalities in the game.
The Capetonian was crowned SA Champion in the 2008/9 season in one of the great comebacks of the game.
A man with superb hands and an in-built pace judgement computer, he is well equipped and entitled to an opinion.
"There is a niche group at the top and the rest are plain average – ordinary, to be honest. I saw it while I was riding and now I am seeing it through the eyes of my wife, Ashley, as the trainer. Why would you take an owner's hard earned cash for months and work your butt off to get a horse fit – and then engage a jockey who is probably going to mess it all up in 60 seconds? So yes, it's human nature and common sense – we all want the best doctor, best teacher for our kids, best football coach. Best always works. Full stop," he adds.
"Mike de Kock always said that training racehorses is not rocket science. Ashley's horses are fit, sound, well fed and loved. The jockey puts the cherry on the cake."
When taxed on nominating his top current jockey, Andrew doesn't hesitate. "Richard Fourie is the complete package. He has it all. And the key is he trusts a horse. If his mount wants to lead, he shows faith and trust and goes with it. The rest are always too busy behind him trying to find cover and perceived best position. When the jockey lacks confidence, the trainer's instructions are echoing in his head. Not Richard. He plays them on the break. Very often he wins the race in the first 200m. Simple."
Andrew adds that he has had long chats with his Cape Champion son Aldo Domeyer about it.
"Aldo is very good. He is hardworking and improving. He is keen to absorb advice – unlike his father! I have told him to wake up and watch Richard. Trust the horse. He is getting better all the time. He could have a national title in him yet!"
Piere Strydom's ride on Norland at the Vaal on Tuesday came up.
"Piere is getting a bit long in the tooth but is a genius. He can win on them from anywhere. When I was riding, I actually asked him how he does it. And I don't ever ask for advice – so you know how very good he must have been! Piere explained that confidence x-factor in your horse. He lets them find their feet and then they are in a rhythm. That means an advantage already. He wrote the textbook. And he is no spring chicken. But he is still top-class –  it helps that most of the youngsters aren't too bloody good!"
He is quick to single out new SA Champion Lyle Hewitson and Luke Ferraris in the emerging generation.
"Lyle had a good grounding. His Dad Carl – a former jockey – mentored him early. He played polocrosse. He knew horses. He has a good brain too – that helps!"
We asked about Luke Ferraris, who has made such a top start, but has also been better supported than many other apprentices, thanks to his legendary Grandfather, Ormond.
"Believe me you can put an average guy on a good horse and he can still stuff it up. The difference is Luke is taking his chances and converting them into winners. He is still a baby, and the real test comes when you lose the allowance. But Luke also got that head start and he is taking the opportunities with both hands. He sits well, speaks well – I think he also has a good head on his shoulders."
Click on the image below to read more

‹ Previous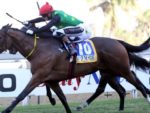 Former Mayfair Mare For States