Another senior jockey has been consigned to the injury ranks.
Cape rider MJ Byleveld goes under the surgeon's knife at Durbanville Medi-Clinic on Friday and expects to be out of action until early in the new year.
"I'm devastated. I didn't need this kind of news on the eve of the Cape Summer Season," a visibly disappointed MJ Byleveld told the Sporting Post on Thursday.
The Avontuur sponsored 36 year old rider is retained by the Vaughan Marshall yard and the combination has some exciting youngsters in the wings ahead of the big feature season.
MJ explained that he had been experiencing pins 'n needles and pain in his fingers.
"I think the issue dates back to a fall I had on the Greyville poly. I haven't worried about it too much but it's been bothering me. I got quite a surprise after my MRI Scan. The Doctor placed me in a brace and booked me right away for surgery. He said that I could risk becoming a quadraplegic if I fell again in my current condition."
The injury is similar to that experienced in contact sports like rugby.
The operation will involve his vertebrae and spinal chord and will centre around a large bilobulated broad-based disc protrusion at the C6-7 level – the x ray shows the focal point.
The progress and success of the growth or fusion  will be monitored and clearance to return to riding will only be granted after medical approval.
"I just want to thank all the folk that have wished me well. It's nice to know people care. I will be back!" said the avid Blue Bulls supporter.
‹ Previous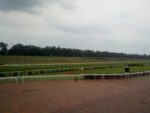 Newsflash: Track Issues – Vaal Delayed