While we have been racing on a Sunday in South Africa for over 30 years now, there have been suggestions from certain quarters that the day become a blank one on the roster and that players and workers – from tote tellers to grooms and racecourse personnel –  be given time to spend it with their families.

Racing on Sundays is commercially motivated – there are contracts in place between our operators and international partners where we are committed to live racing being broadcast 364 days a year.
It seems that there is a shift in thinking in Ireland where an increase in the number of blank Sundays during the summer months and an agreement on earlier finishing times for evening meetings are among the features contained in the Irish Fixture List for 2019, which was published by Horse Racing Ireland on Wednesday.
The number of racing-free Sundays has been increased to five (from three), while there will be another five Sundays during the summer with no Flat racing.
The final race at evening meetings will be no later than 20h45 for ten months of the year and 20h30 at Dundalk during the first two months of the year.
Brian Kavanagh, chief executive of HRI, said: "The 2019 fixture list has been developed with the needs of both the customer and those working in the industry in mind."
On the flipside of the coin, there are those that wouldn't miss racing on Sunday for anything.
Perhaps the best argument for horse racing on Sundays was this one, offered by a painter named Jack Falls who was interviewed at the track one Sunday by the San Bernadino County Sun during that 1973 season:
"The Lord says you're supposed to rest on the seventh day … and I can't think of a better place to rest than Hollywood Park."
‹ Previous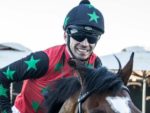 Aldo, Muzi & Lyle In Demand!