The Dubai Duty Free Mill Reef Stakes was established at Newbury in 1972, shortly after the great Mill Reef had to be retired following a career- ending injury on the gallops, to become a permanent tribute to the bay colt who raced with a distinctive white noseband and was trained just seven miles from the racecourse at Park House Stables in Kingsclere.
Ian Balding has given a special interview to mark the anniversary of the 1971 Derby, King George VI & Queen Elizabeth Stakes and Prix de l'Arc de Triomphe winner ahead of the Gr2 Dubai Duty Free Mill Reef Stakes to be run at Newbury on Saturday.
Watch Part 1 here:
In a two-part filmed interview shot at Kingsclere, Balding, 79, recalls that at the time he feared that defeat had robbed him of all chance of ever winning a Classic with Mill Reef, plus a shot at the Triple Crown of 2,000 Guineas, Derby and St Leger clinched the previous year by Nijinsky.
"I thought he was the best two-year-old I'd ever seen and therefore if he didn't win the Guineas I would never win a Classic," he says. "I just couldn't get over it when he was beaten in the Guineas – I couldn't believe it and it was such a shock."
However, he got immediate reassurance from jockey Geoff Lewis, "He said, 'Don't worry that horse is going to stay. I am sure he will win the Derby'."
As the well as the many highs on the racecourse with Mill Reef, Balding experienced his lowest point when his champion shattered his left foreleg on the gallops.
Watch Part 2 here:
‹ Previous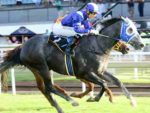 Grand Heritage – Final Field