The Fairview double feature weekend of racing on 26 and 28 October has received a body blow of note with the news that the suspected African Horse Sickness case in the Port Elizabeth area has been confirmed at a laboratory, according to the State Vet in the area.
Cape raiders have dominated the Algoa Cup for many years and have added quality to the line-up. But few are likely to make an appearance after the unfortunate news broke today, with the implications of movement restrictions.
While unknown whether these are related, Justin Snaith has already scratched four entries.
Declarations are due at 11h00 on Monday 22 October.
Tabnews reports that the strain of AHS involved is Type 2, the same strain that was circulating earlier in 2018. The strain 2 cases earlier this year were all confirmed field strains and not vaccine related, so it is unlikely that this one would be vaccine related.
A 40-day movement restriction into the AHS controlled area of the surrounding 30km radius was implemented immediately the suspect case was reported, and will remain in place for a minimum of 40 days.
Fairview Racecourse is one of the properties within the 30km radius. During this time, movement into the AHS controlled area may only occur via Stop Over Quarantine and any applications for such movement should be directed to [email protected]
Direct movement into the AHS controlled area will be re-considered at the end of the 40 day period, which will be on or around 20 November.
Algoa Cup weights
13
Strathdon

Scratched

(5G)
60.5
102
A
Justin Snaith
23
Mac De Lago (AUS)
(7G)
60
101
A
Dan Katz
20
Master's Eye
(7G)
59.5
100
A
Justin Snaith
8
Doublemint

Scratched

(4C)
59
101
A
Justin Snaith
6
Fire In The Belly
(5G)
59
99
AT
Alan Greeff
18
$Ngaga (AUS)
(5M)
59
99
BA
Andre Nel
16
Stormy Eclipse
(7G)
57.5
96
AT
Tara Laing
26
Widow's Lamp
(4F)
56.5
96
A
Yvette Bremner
12
Kimberley Star
(4G)
56
95
AT
Alan Greeff
3
Laws Of Succession
(7G)
55.5
92
A
Yvette Bremner
1
Magnificent Seven
(4G)
54
91
A
Justin Snaith
9
Mangrove
(5G)
54
89
A
Yvette Bremner
4
Ollivander
(5G)
54
89
BA
Candice Bass-Robinson
31
My World
(7G)
53.5
88
A
Tara Laing
27
Western Wu
(8G)
53.5
88
CAT
Alan Greeff
23
Sabbatical

Scratched

(4G)
53
89
A
Justin Snaith
22
Desert Wisdom
(5G)
53
87
A
Jacques Strydom
11
Plano
(5G)
53
87
AT
Tara Laing
21
Cape Rebel
(6G)
52
85
A
Tobie Spies
17
It Is Written
(8G)
52
85
A
Tara Laing
25
Story Of My Life
(5G)
52
85
BAT
Gavin Smith
32
$Run Red
(4G)
50.5
84
A
Andre Nel
19
$Adorada
(6M)
50
81
BA
Emmanuel Kaknis
7
Arabian Dynasty
(5G)
50
81
AT
Alan Greeff
28
Frikkie
(7G)
50
81
BAT
Jacques Strydom
10
Querari Viking
(5G)
50
81
A
Sharon B Kotzen
29
Ballad Of The Sea (AUS)
(4G)
49.5
82
BA
Candice Bass-Robinson
2
Fellow Traveller
(5G)
49.5
80
A
Glen Kotzen
30
Free Agent
(6G)
49.5
80
BAT
Tara Laing
33
Pacific Chestnut
(4G)
49
81
BA
Candice Bass-Robinson
22
Jailhouse Rock

Scratched

(4C)
48.5
80
A
Justin Snaith
14
Chappaquiddick
(4C)
46.5
76
BA
Gavin Smith
24
Helios
(4G)
46
75
A
Sean Tarry
5
$Wild Brier
(6G)
44.5
70
BA
Gavin Smith
15
$Captain's Vista
(6G)
39.5
60
BAT
Emmanuel Kaknis
(35)
‹ Previous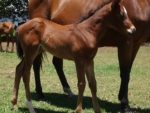 November Mixed Sale