Aldo Domeyer beat 15 opponents and retained his long-held title with an impressive burst of acceleration to win the 2018 Cape Jockeys Chase in fine style at Durbanville on Saturday.
An annual event, the fund-raiser was co-ordinated by MJ Byleveld, with charities benefitting from the fun.
Making it five victories in the 100m dash for glory, the recent Singapore PGI Challenge victor ludorum said that he hoped that the public had enjoyed the exhibition and complimented the organisers for the great vibe on course.
MJ Byleveld, who is still rehabilitating an injury, has been the driving force behind this initiative for the past few years and his passion and dedication are a huge asset to the industry.
Funds raised were donated to the Western Cape Equine Trust (WCET) and Miracle Kidz based in Constantia who were also in attendance. The children enjoyed a lovely day out, which included the kiddies play area and a lunch sponsored by the Marco Polo Club.
Hosting Market @ The Barn once again gave the ladies the chance to do a bit of retail therapy whilst the potjiekos competition tasting was underway.
Partnered by Boer & Butcher, the voting was unanimous when Team Bosveld Bakkeneers won the R15 000 Potjiekos Championship first cheque.
In second place was Team One World and in third place, Smokey & The Bandits. But it was Bob's Builders that took the R5 000 for the best dressed stand.
‹ Previous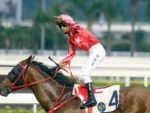 Karis' High Five!