Owner Chad Bushnell had almost given up on the Grand Heritage ever being run.
But after Saturday and a sensational victory by his 4yo Big Mistake in the R250 000 Grand Series Consolation, the 26 year old Durban-based financial trader isn't too disenchanted.
"Wasn't that just absolutely wonderful," said the delighted Chad when contacted by the Sporting Post after Ashley Fortune had saddled a great feature double on a raceday that was three weeks overdue.
"I had a Mauritius trip planned but delayed it for the Grand Heritage. Then on the Thursday, we got the notice that it was delayed. Then it was shifted from the Vaal and split in two and moved to Turffontein for the 13 October. Then that meeting was lost after four races – then it was rescheduled to Saturday 20 October. That's when I decided that I was not going to try and go and watch Big Mistake run as I felt I was putting things under pressure. So, no I didn't go to Turffontein and watched the race on Tellytrack in the end,"he laughed.
The difference between Chad Bushnell and the average owner of today is that he is 26 years young and sees this as the greatest time to be buying horses and racing them.
"Look, it's easy to talk after a nice win. But in this era of a realignment of the markets, we are paying more realistic prices for horses. There is a horses in training sale every other month. There aren't those ridiculous prices being paid in that artificial market of recent years. And what I do is decide what I want to pay and don't get swept up in the hype and emotion of the sales arena. If it doesn't work, I move on. So I am comfortable from the outset and I am not starting on the back foot by paying over inflated prices. It's like any commodity in life – houses, stocks, artworks."
Chad, who has been involved in the industry for some years, says he sees the current time as a phase of opportunity. He has five horses and is enjoying it.
Read about Big Mistake's win here
"I have Big Mistake and two babies with Ashley Fortune. I have a youngster with Sterling Miller and Crimean Queen is with Jarryd Rugg in Kimberley. It's a good geographical spread and  I am dealing with people I know and trust. I am also looking at an interest in a Nathaniel youngster with Joey Ramsden."
On Big Mistake's victory, Chad said that it was a superb feat of training and jockeyship.
"Aldo Domeyer rode him in his first start and said he couldn't believe how good he felt after gelding and a five month break. Then we gave 4,5kgs to Gr1 winner Mighty High and almost rolled her a fortnight later. Ryan Munger rode him that day and it was on his suggestion that the Grand Heritage was targeted. Well it's history now – and look how confidently Ryan rode Big Mistake without the whip. It's a great thrill to own a winner. I want to thank the whole team for a job well done."
‹ Previous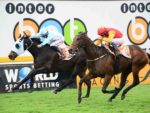 Ashley Fortune's Grand Strike