The countdown continues to the R2,5 million CTS Ready To Run Stakes to be contested over 1400m at Kenilworth on 24 November.
The race is restricted to eligible graduates of the 2017 CTS Ready To Run Sales with entries closing at 11h00 on Monday 12 November.
Supplementary entries close at 11h00 on Wednesday 14 November with declarations due on 15 November.
First cheque will be R1 250 000 right down to R30 000 for tenth finisher.
The final field will be determined by a panel appointed by the Racing Operator
Vaughan Marshall's impressive Kuda Sprint debut winner Agent Of Fortune and Sean Tarry's narrow SA Nursery runner- up Cirillo continue to hold the joint top position on the log.
Please note that:
The Log is intended as a guide only and is purely based on performances thus far.
Fillies will receive a 2.5kg allowance. This has been added to all raced fillies for log purposes.
The Log excludes horses without an official NHRA Merit Rating.
‹ Previous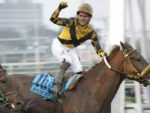 Paul Peter's Peruvian Pro!