Daniel Muscutt, son of Brett Crawford assistant trainer Peter Muscutt, suffered damage to his neck and back in a fall at Chelmsford on Thursday.
Daniel sustained the injuries when thrown from Pico Boulevard after about 400m of the 1600m Novice Stakes. The George Peckham-trained two-year-old, who was making his racecourse debut, was fatally injured.
Muscutt was taken to hospital where he remained overnight.
"Danny has suffered a neck fracture, has fractures to his back and a cracked rib," said his agent, Paul Clarke.
"They are clean fractures which I think is why no surgery is needed. What is wrong with him will heal, however long it takes.
"You have to look at the positives in these situations. He has no head injury."
Muscutt rode in Cape Town with Brett Crawford and Stephen Page in 2012 and also rode at Scottsville in 2018.
‹ Previous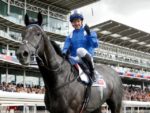 Melbourne Cup Hopefuls Jet In