A report that Frank Stronach, founder of the company that owns Pimlico and Laurel racetracks, has sued his daughter and successor Belinda Stronach has Maryland horse industry figures worried about any possible impact in a state where the future of the Preakness and racing in general is a perennial concern.

The Thoroughbred Daily News reported Wednesday that the 86-year-old patriarch has filed a suit in Ontario alleging that his daughter, who has taken an increasing role in Maryland racing events, has mismanaged The Stronach Group and wrested away control of his fortune.
He is seeking her removal from the company and hundreds of millions of dollars in compensation and damages, the news outlet reported.
The report set the horse industry abuzz, given the extensive holdings of the Stronach company, a Canada-based empire that is the largest owner and operator of racing facilities in the United States, from Santa Anita Park in California to Gulfstream Park in Florida in addition to the Maryland tracks.
‹ Previous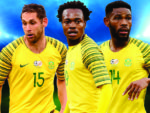 AFCON Qualifier