One of the most colourful characters of the game and an 'alternative horseman' if there ever was one, former Cape trainer Lenny Taylor passed away suddenly from a  heart attack in Mooi River on Tuesday.
He was working at Roy Moodley's Stud and also held a trainer's licence up to recently.
Described by friends and associates as a brilliant and innovatively eccentric character, Lenny Taylor learnt many of his alternative methods during a  stint in New Zealand with his sister in his younger days.
While he trained at Phillipi, he was also based at Hennie Retief's Vaatjie Stud on the old Darling Road, where Andries and Piet Steyn rode work for him.
"Lenny Taylor was a legend. All his horses raced in drop nosebands and martingales – when they were still allowed. He strapped the saddle further back than most. His horses raced unshod. But there was little anybody could teach him. He had a helluva eye for a horse and I recall riding a lot of winners – and a double up at Turffontein – for him. The Joburg double was two good horses in Free Enterprise and London King. He just had a knack of finding the right horses for the right races. He is a sad loss to the game,"said Garth Puller.
Peter Wrensch rode work for Lenny Taylor forty years ago. He confirmed Garth Puller's sentiments.
"They don't make them like Lenny anymore! He was swimming horses long before it was done here. His horses slept on sand – not bedding. They raced barefoot. He had some top horses – Diadem winner Horatius – a champion sprinter was beaten a short head by Bold Tropic in the Cape Guineas. He ran second in the Met behind Queen's Elect in 1981. He trained Bless My Soul, Arch Abu, Kubla Khan, Free Enterprise and London King. Those names should evoke some memories for the older generation," said Wrensch, who, much like Garth Puller, has a near enclyclopediac memory and would be a first-class speaker at any racing function.
He went on to say that Lenny was near obsessive in teaching his horses to settle in races.
"He had this speedball called Prove It. This horse used to bolt at 100 miles per hour for 900m. So Lenny thought he'd try something new. He entered him in a Cape Hunt hurdle race over about 3600m and rode him himself. He said that would teach him to think about settling. I can't recall where he ran in the end!"
Wrensch recalled that when Lenny raided Johannesburg he would take his shoes and socks off before walking barefoot into the clubhouse to have breakfast with the other trainers.
"That would have them thinking this Capetonian was a bit of a loony. So they didn't take him too seriously – at their peril. He was the master of the old-fashioned betting coup too. There are so many guys who won big money in the good old days punting his horses and winning big jackpots. Lenny seldom missed. We need more guys like him. Colourful characters and gentlemen with charisma and character. They are a rare breed today."
The Sporting Post invites anybody who may have a pic of Lenny Taylor to email us on [email protected]
‹ Previous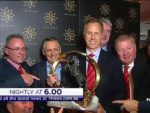 Even Battlers Have A Shout