Cape Town dressage talent Nichola Mohr has her sights set on the 2020 Olympic Games, but she needs your help to get there.  Come and support her at Kenilworth Racecourse this Saturday.
They say there are three choices – give up, give in, or give it all you've got. Well, there is another – you can throw your weight behind someone else. Thanks to some rather interesting neural architecture, it turns out that watching someone do something, stimulates the same area of the brain as actually doing it yourself, so it's nearly the same as being there.
Dream Big
When I was a kid, I had a poster above my bed of an Olympic show-jumper and in my vague, childlike way, it was my ambition to be up there one day, competing with those riders and who knows, even possibly inspire a poster of my own.
If someone had explained the real logistics of the cost and the geographical hurdles in my way (never mind the time, effort and painful, grinding hard work required to get there), it is quite likely I would never have bothered swinging a leg over a horse again as the facts would have stated clearly that the odds were not in my favour and it was madness to try.
And yet.
Speaking to a newly minted friend recently, and trying to explain 'the horse thing', she mused, 'It is a kind of madness, I suppose.' She is, of course, entirely correct, but it is thanks to this madness that we keep going anyway, because somewhere, deep inside, exists the abiding belief that all this is going somewhere. It is, of course. Our destinations may all differ, but they exist nonetheless.
So, while my wall poster and my grand dreams may sound a little naive, embarrassing even (hey, I was only 10!), those posters – and those dreams – are important, because they made me get up and try and keep trying, long after I'd accepted the blindingly obvious. And sometimes, that's all it takes.
Nichola Mohr
Nichola Mohr is a young dressage rider from Cape Town. I don't know whether she had any posters above her bed as a child, but she had the same 'horse madness'. Where most people eventually weigh up the exacting demands, huge risks and heartbreak of chasing dreams and adjust their sights accordingly, Nichola never did. Instead of dialing down her goals, hers have only expanded and she is at this very moment readying herself for a tilt at the 2020 Olympic Games.
So how did this happen? Nichola explains, "Horses were always in the family, so I grew up with them and then I guess when I started riding, it just caught on."
Her riding career started out in Pony Riders with showing and a bit of dressage. "I remember doing dressage tests on a lead rein, that's how long ago I started. I would consider myself quite a nervous jumper, so that never caught me. I preferred the whole ballet on horseback idea and seeing Grand Prix on TV and video I thought "Oh, that's what I want to do – I want to dance!"
Nichola's mom, Linda runs a very successful livery yard called Vaderlansche Rietvlei in Philippi and to earn extra pocket money, Nichola started working clients' horses during school holidays. "After school, I took up the horse business and worked people's horses to make a bit of money while deciding what to study. In the end I never bothered with studying because riding just took over," she laughs.
A Special Horse
All riders will acknowledge that no matter how good, talented and hard-working you are, you still need a horse to put you on the map, and the horse to get her there was an Off The Track Thoroughbred named Sport Schu (Takkies to his friends).
Nichola's aunt Kathi, who is married to a local racehorse trainer, rang up one sunny day back in 2004 to say they had a horse that was not too good on the track, but would make a very special competition prospect. With a R1,000 gift from her grandfather, Nichola took one look at Sport Schu and fell in love. "Because he's a Thoroughbred and what Thoroughbred does dressage" she rolls her eyes at the common misnomer, "we didn't think he'd get very far, but we couldn't afford a going, fancy Warmblood, so I learnt and taught him as we went along."
And yet.
As it turns out, they went along just fine, with Takkies progressing all the way up to Grand Prix level and the pair leading both local and national rankings. Unfortunately Nichola's grandfather passed away a few months after she bought Takkies and missed out on their success, which just makes Takkies all the more special.
"Back then if someone told me he'd get as far as he did, I don't think I would have believed them. But what he's done and taught me – he's special," she tails off.
International Ambitions
While Takkies developed Nichola as a rider and helped put her on the map, it's a horse called Callaho Winston (Wenckstern – Wyona/Idocus) that is carrying her to Europe.
Although not a Thoroughbred, Winston is a proudly South African product and, as with most horses, comes with a story.
Nichola 'found' Winston on the 2013 Callaho auction catalogue. " In Winston's year, we went up early to try 12 or 15 horses for myself and a client and out of all of them he was the one I got on with the most." There was only one problem – with his breeding and movement, the imposing chestnut was expected to fetch a big price.
"We didn't expect to be able to buy him, if there's one thing other than Winston I remember about auction day that year, it's how cold it was! Just before he was about to be presented, they announced on the mic that there had been an issue and Lot 9 would be coming in later – and that was Winston. He came in an hour later with a different rider and was the only horse that was taken around on a lead and just walked. Apparently there had been a really strong wind in the warm up and a lot of the young horses had got a fright and bolted. His rider spun in a circle and he slipped and fell. She landed on her head and had to be flown to hospital by helicopter. It was a freak accident – it wasn't his fault – but obviously it's the one thing everyone remembers." However, it meant there wasn't a lot of support for him in the ring. "Someone bid, my mom said we could go a bit more and the hammer came down! It was quite a surprise, but I was really chuffed."
In Nichola's hands, Winston has defied his fearsome reputation and moved effortlessly through the grades. "He finds everything in the GP / higher level tests very easy," she explains. "I've never really had to teach him how to do things – all I've had to train is confidence and strength. At the end of 2017, we were competing at Advanced and in a few months, he was almost doing Grand Prix – that's how easy he finds it. It's now just about making him strong, fit and happy."
Impressive as it is, Grand Prix on the local circuit is still a world away from the bright lights and big arenas of Europe. So what made her take the leap?
Giving it a bash
"I don't know when I thought it would actually be a possibility," she admits shyly. "It's really funny, in Grade 2 our teacher made us write down what your dream was and I remember writing 'to go to the Olympics'. If I think back, that's how long I've wanted it."
"Growing up, I knew it was kind of impossible, but watching on TV or Youtube, I'd imagine going down that centre line and think 'how cool!' The other thing was wanting to do those big international shows on a horse I'd trained myself – that was the perfect dream."
Earlier this year, Nichola was invited to do a stint with fellow dressage rider, Tanya Seymour in Germany. "It was just for training and to experience how it's done overseas. Tanya comes out to South Africa to teach every month and a half. She said the horses I ride are good enough quality for overseas and that there was no reason I couldn't make it to the Olympics if that's what I wanted."
"Although a few people said it, Tanya is the only one who said it and said come, this is how it's going to work.  She's almost made us take the first steps. It's one thing for someone to invite you and get you going, but it feels like she's taking a personal interest in making it happen and making it happen well. When I phoned her and said if Winston goes, he has to leave in June, I think she was almost more excited than I was."
Nichola is also blessed with the most amazing family. When she phoned home to say she wanted to take the leap, all Linda asked was, 'What's the plan?'
Support
It's been a crazy whirlwind.
And yet.
Winston is safely in Germany and Nichola is prepping for their first big international early next year. The challenges are endless, the biggest, of course, being finance, but horses have been sold, Nichola is working her socks off both in Germany and South Africa giving clinics and shows and there is a special fund-raiser race day at Kenilworth this weekend. In between races, there will be riding displays – including one by the horse that really started it all – the marvellous Takkies – fashion shows, a 6-bar show-jumping competition, auctions, prize giveaways, and lots of fun.
To throw your weight behind Nichola and Winston, book your ticket to adventure by contacting Linda Mohr on 082 785 2511 or Linda Hennings on 083 743 7203. Alternatively, support their Go Fund Me campaign, follow Nichola and Winston via her Facebook page – @NicholaMohrDressage – or just wish this lovely, mega-talented young lady and her horse well on their journey.
Thanks to Nichola and Winston, it seems I may just make it to the Olympics after all.
‹ Previous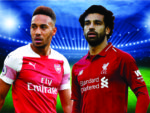 English Premier League