Immediately after the last lot of the Ready To Run Sale catalogue has passed through the ring on Sunday 4 November, the first of 40 lots for the 2018 November Mixed Sale will be auctioned.
This catalogue includes raced and unraced horses-click here
Notable standouts include the eight-time winning 7yo Silvano mare Paree, who hails from a winning Argentinian dam line.
Hartley SA (Pty) Ltd have eight lots on the sale. In a shift in their policy, they will only race fillies and are selling their males as part of a restructuring programme.
One of their flagbearers is Brigtnumberten (#17), a three-time winning 4yo son of Eightfold Path with plenty of racing miles left on the clock.
Hartleytwo (#28) could prove an interesting opportunity, having run third on debut in his only start to date. He also showed up well when placed at a Barrier Trial.
‹ Previous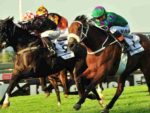 The Earls, Dukes & Other Royalty!