Veteran Gauteng trainer Ormond Ferraris informs that on Sunday 21 October 2018 he received an sms from Phumelela.
He writes in the Sporting Post mailbag:
I have been a trainer for over 65 years and have never before received a notice banning me from inspecting or walking the surface on which my client's horses are going to race.
Furthermore, it appears such actions will result in me obtaining a sanction from the NHA.
Whilst the sheer idiocity and lunacy of such is clearly apparent, it begs the question as to what is being hidden under the track covers, especially after the recent farce of the state of the Vaal tracks?
I am quite sure that the NHA would welcome the possibility of handing out fines in this regard.  However, this would only further demonstrate its hypocrisy and pettiness.
Some Turffontein trainers were recently fined for their grooms not wearing safety helmets, whilst WALKING horses.
But week after week we see images of Cape trainer's horses being ridden on a beach without a safety helmet (including on the trainer) in sight and no fines issued.
Unfortunately, the demise of Du Plessis has apparently given rise to a new regime of authoritarianism and not the promised all inclusive open door policy.
So Phumelela what is being hidden from us?
Maybe they have found Shergar!
Ed – Ormond Ferraris
Ormond Ferraris first took out his licence in 1952.
That is 66 years of training winners.
He holds a record of ten SA Oaks and eight SA Derbies, he has twice been SA champion trainer, he won the1994 Summer Cup with Sizzling Sun, ran 2nd in one of the most controversial Durban Julys with Distinctly in 1975 and trained 2013 Triple Tiara winner, Cherry On The Top.
On 12 March 2016 Mr Ferraris celebrated a milestone 2500th career winner when Romany Prince won the Listed Drum Star Handicap, two weeks before his birthday. He has done sterling work on the Trainers Benevolent Fund, he is respected as a horseman and also as someone who is not afraid to speak his mind on industry matters.
‹ Previous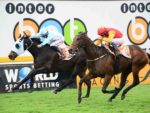 The Wheel Of Fortune