The Ready To Run Gallops are done and dusted and now the build-up to 4 November begins in earnest.
Everybody's looking for the next big horse and the Summerhill draft looks like they have the makings of another vintage crop.
Dual classic winner Takingthepeace was the talking horse of last season and her half-brother looks tailor made to be Drakenstein star Duke Of Marmalade's next champion.
Beautifully named The Sandwich Man (#91), the handsome chestnut looks the real deal and ticks all the boxes.
Click here to watch his gallop
It's a case of fishing where the fish are.
Those that've made the annual pilgrimage will know that the Ready To Run gallops at Summerhill have evolved into a national institution over the first three decades of their existence.

This year the dictates of a lower market have called for a more modest approach, now in the form of what one might term private gallops, where the object was to get them filmed for public consumption on television, websites and on social media. T
The popularity of the gallops among hard core racing people however, meant that there was still a nucleus of professional observers, leading trainers, champion jockeys and dyed-in-the-wool owners and racing fans at Summerhill last Thursday, notwithstanding the sudden change of date on account of a nasty weather alert.
And the horses. Especially the horses, more so as the word leaking from the assembly of various consignors was that this draft, if not the best ever, would at least rival the one that gave racing three Group One-winning sophomores just this past season, Takingthepeace, Hero's Honour and Brave Mary, not to mention Chesneys van Zyl's highly regarded Group One runner-up, Railtrip.
While it's easy to forget just how good the 2016 vintage was, there was a solid body of opinion among the top horsemen in the camp that this was the draft of all drafts, and while predictions can sometimes stray in the world of the racehorse, knowing those gathered and the sheer weight of their experience, as a player you'd want to be paying attention.
But watch the gallops – click here – and make your own mind up.
‹ Previous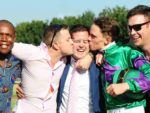 Ready To Run Gallops Are Live!