Following back-to-back Breeders' Cup wins by Roy H and Stormy Liberal and a history-making win in the $4 million Breeders' Cup Turf by 4-year-old European super filly Enable (GB), the first horse to win the Prix de l'Arc de Triomphe and the Longines Turf in the same year, Accelerate's victory in the $6 million Breeders' Cup Classic capped a perfect day of racing at Churchill Downs in the 35th Breeders' Cup World Championships.
Enable went where Dancing Brave, Sakhee, Golden Horn and Found could not when she became the first Prix de l'Arc de Triomphe winner to follow up at the Breeders' Cup, recording history in the Turf at Churchill Downs on Saturday.
She was given a confident ride by Frankie Dettori, who sat her just off the pace and angled her wide before the turn for home.
From there, fellow Euro raider Magical provided the biggest threat, but Enable was very much able to dismiss her, powering home for a decisive victory.
Sadler's Joy was third, but the £2.7 million contest was about only one horse.
Trained in Newmarket by John Gosden for owner-breeder Khalid Abdullah, Enable won the Oaks, Irish Oaks, King George VI and Queen Elizabeth Stakes and Arc during a stellar 2017.
However, her campaign this term was stalled until September following a spring setback, although the daughter of Nathaniel has more than made up for lost time.
She recorded back-to-back Arc victories last month and was strongly fancied in her bid for immortality.

Total turnover for the two-day event was $157,445,841, the fifth highest since Breeders' Cup adopted a two-day format in 2007.
Total turnover on Saturday's nine Breeders' Cup races was $96,018,060, a 4% decrease from the $99,833,643 bet on the nine Breeders' Cup races in 2017.
Common-pool turnover on Saturday's 12-race Breeders' Cup card was $105,229,197.
Saturday's attendance was 70,423 and the two-day attendance total was 112,672, the third highest in Breeders' Cup history. (Attendance in 2017 at Del Mar was capped at 37,500 each day for the comfort of Breeders' Cup guests.)
"Once again the Breeders' Cup proved a fitting showcase for world championship performances and the best in international racing," said Breeders' Cup President and CEO Craig Fravel. "We want to thank our gracious hosts from Churchill Downs, the greater Louisville community, our fans around the world as well the owners and breeders who participate in our racing programs for an incredible week capped by two extraordinary days of racing."
This year was the ninth time the Breeders' Cup has been held at Churchill Downs. The Breeders' Cup will return to Santa Anita in 2019, and will be held at Keeneland in 2020 and at Del Mar in 2021.
Breeders' Cup Two-Day Attendance and Handle (common-pool) history:
2017, Del Mar – 70,420 – $166,077,486
2016, Santa Anita Park – 118,484; $156,861,811
2015, Keeneland Race Course – 94,652; $149,869,035
2014, Santa Anita Park – 98,319; $151,158,813
2013, Santa Anita Park – 94,628; $160,704,877
2012, Santa Anita Park – 89,742; $144,272,332
2011, Churchill Downs – 105,820; $161,512,867
2010, Churchill Downs – 114,353; $173,857,697
2009, Santa Anita Park – 96,496; $153,271,176
2008, Santa Anita Park – 86,588; $155,740,328
2007, Monmouth Park – 69,584; $129,197,262
‹ Previous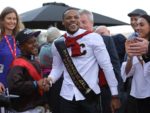 Charity Mile Thriller