Jane Thomas of Far End Racing Stables has described Sunday's 2018 BSA Ready To Run Sale as having surpassed all of her expectations and she believes it could signal the turning point for better days again.
An industry stalwart of some thirty years standing, Jane was thrilled to have sold her entire twenty-two strong draft.
"Nobody can blame us for having become quite cynical. It's been a tough few years. But the sale exceeded all my expectations and the most pleasing aspect was that there was a strong middle market – in fact the quality of the overall catalogue, coupled with keen buyers meant that there was genuine interest in every horse. Well done to Bloodstock South Africa. There was a great vibe all week too. Let's build on the positivity,"she said.
Far End was second behind Summerhill Sales, who topped the Vendors List, selling 59 juveniles for a gross total of R11.23 million, while July winning owner Nick Jonsson topped the Leading Buyers List, acquiring four lots for R3.1 million.
The now Lammerskraal Stud based Visionaire was the Leading Sire by Aggregate, with the Gr1 winning son of Grand Slam responsible for 30 lots who grossed R4.15 million.
Multiple SA Champion breeder Mick Goss backed Jane Thomas' bullish comments.
"This was an extraordinary sale, the best we've known in four to five years. While the market is obviously still not back to its previous levels, the encouraging thing was that there were buyers on virtually every lot, and in several instances, two, three and four enthusiastic bidders. We'd almost forgotten what that feels like, and while we were obviously delighted that the top lots sold as well as they did, they usually take care of themselves, so it was the strength of the middle market that really thrilled us.
Goss added that he'd like to think that this was a genuine sale where every horse in the catalogue was offered with a commercial purpose in mind, which more than anything probably explains the very low "RNA" rate.
" We sent 61 through the ring and sold 60 of them, a remarkably high percentage changing hands. I think it's probably fair to say that this was also one of the strongest catalogues ever, and from what we saw at the sale, it was matched by the individuals on offer. As heart-warming as anything though, was the legion of fresh faces we saw around the ring in the form of new owners. The game has been looking for these people for years now, and once again, it was the Ready To Run which served as the initiator".
Bloodstock South Africa's Gary Grant said of the sale:
"It was a resounding success whose performance exceeded our expectations by some way. Thank you yet again to our vendors for their support of BSA and to all buyers for the resilience and custom. We are also seeing a trend of increased participation from foreign buyers which is heartwarming for both our vendors and BSA."
‹ Previous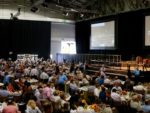 One Day Only