Today's Fairview eight-race meeting is on the turf, with the match between Carlita and the consistent March Music likely to be the highlight in the R75 000 Guineas Plate – off time 15h15.
Carlita, who will be partnered by Greg Cheyne, has to give 6kgs to the overdue March Music, who jumps from a 1 draw with SA Champion Lyle Hewitson in the irons.
The first race is also the first leg of the Bipot and goes off at 13h00.
Trainer Comments – First timers /Rested horses
1 13:00 – ITSARUSH.CO.ZA WELCOMES YOU MAIDEN PLATE
3 CHANONE'S THEORY JVA Strydom: Too short
8 LLOYD GEORGE A C Greeff: No comment given
11 ZABIVAKA T J Laing: Will need the run
16 GRACI LITEHOUSECAT JVA Strydom: Will need the run
3 14:05 – RACING ASSOCIATION PINNACLE STAKES
3 GO DIRECT T J Laing: Will need the run
5 15:15 – INTERBET.CO.ZA 0861 150 160 GUINEAS PLATE (Fillies)
6 GREEN SEA G D Smith: May need the run
6 15:55 – WWW.TABONLINE.CO.ZA MR 89 DIVIDED HANDICAP
8 SILVER SPINE T J Laing: Must have a good chance
7 16:30 – BETTING WORLD – 087 741 2777 MR 68 DIVIDED HANDICAP
7 COYOTE CREEK Y Bremner: No comment given
8 17:05 – NEXT FAIRVIEW RACE MEETING IS FRIDAY 16 NOVEMBER FM 76 HANDICAP (F& M)
2 ADORADA E Kaknis: Will need the run after comeback
4 TSESSEBE A C Greeff: No comment given
11 PEPPER DUST G D Smith: Does not act on poly, has been waiting for turf
12 STAR BURST S B Kotzen: First run for stable
13 GLENNIE D A McKenzie: No comment given
Thanks to Phumelela Publishing
‹ Previous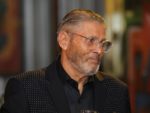 Wainstein – 'RA Election Result At AGM'