Following the resignation of CEO Lyndon Barends on 17 September, the National Horseracing Authority of South Africa appear to be taking a considered approach with the appointment of a replacement for one of the biggest jobs in South African horseracing.
Barends left immediately and it took the NHA Board some nine days to convene to discuss the vacant position and they agreed on 26 September that the post would be advertised.
The position was advertised in the first week of October and applications closed on 12 October at 16h00.

On that same day the NHA advised that until the process of appointing a permanent Chief Executive had been completed, Racing Control Executive Arnold Hyde would assume the responsibilities of Chief Executive
Today (Monday) it will be a month since that announcement.
Here are the men that are tasked with making the appointment
Who would be your choice to lead the NHA?
‹ Previous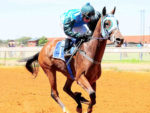 'Jozi Babe Is Working Well'